New faces at Sydney Dance Company in 2015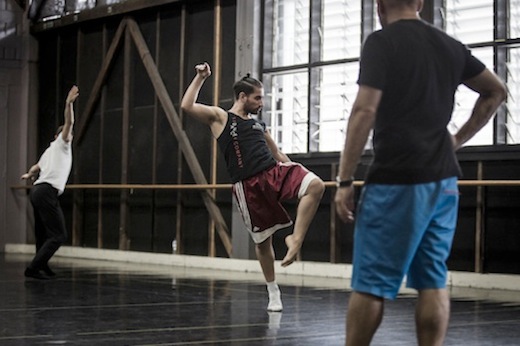 Sydney Dance Company welcomes a bevy of new faces to the studio in 2015 – new dancers Daniel Roberts, Chloe Leong and Sam Young-Wright, trainee Josephine Weise, and Rehearsal Director Lee Johnston. Plus, the company has announced the return of dancer Richard Cilli, who spent the last two years working independently in Australia and Europe.
All of the new recruits are currently in the studio working with Artistic Director Rafael Bonachela on the creation of his new work, which will premiere in the company's Frame of Mind season opening on March 6 at Sydney Theatre.
New dancer Daniel Roberts originally hails from Melbourne. A graduate of the Victorian College of the Arts Secondary School and the Australian Ballet School, he joined the Singapore Dance Theatre in 2009, working with David Dawson, Jorma Elo and Choo San Goh. In 2011, Roberts became a member of the West Australian Ballet and in 2013 he created Jubilate for the company's Ballet at the Quarry program. This year another one of his works will be premiered with the company in Perth.
On the other hand, new dancer Chloe Leong is native to Sydney. She started dancing at age six at Sydney's Brent Street Studios before later studying at Lindfield's Ecole Ballet and Dance Theatre and London's Rambert School of Ballet and Contemporary Dance. She performed works by Bonachela, Alexander Ekman, Ohad Naharin and Sidi Labi with Rambert's junior contemporary company IT Dansa under the direction of Catherine Allard.
New dancer Sam Young-Wright grew up in Canberra, training with Quantum Leap Youth Dance Company under the direction of Ruth Osborne. In 2013, he completed a secondment with Sydney Dance Company as part of his training at the Western Australian Academy of Performing Arts (WAAPA). Last year he was awarded a scholarship to attend the Nederlands Dans Theater Summer Intensive and gained acceptance to SDC's inaugural Pre-Professional Year (PPY). He is the first PPY graduate to be offered a full-time contract with the company.
Trainee Josephine Weise represents Queensland, having been raised there and graduating from the Queensland Dance School of Excellence. Like Young-Wright, she is a recent PPY graduate. This past summer she toured with the company to Western Australia, Queensland and New South Wales. She recently performed in Mira Calix's art installation Inside There Falls during its world premiere season at the Sydney Festival.
Bringing it full circle, Rehearsal Director Lee Johnston comes on board with a plethora of experience. She trained with WAAPA and then danced with LINK Dance Company and the National Dance Company of Wales before touring with the English National Ballet and the Scottish Ballet. She has taught, choreographed and directed around the world.
Bonachela said, "It is fantastic to start 2015 by welcoming this new energy, talent and expertise to the company. Each of these individuals brings different experience, skills and perspective to the studios, and I can't wait to see how their contributions inform and influence our new works and initiatives."
Helpmann Award-winning dancer Richard Cilli returns to the company from a recent contract with K.Kvarnström & Co in Sweden and former London-based freelance work.
The company's fresh faces are sure to bring an additional layer of excitement to the season and resurgence to the overall artistic process. For more information on Sydney Dance Company, visit www.sydneydancecompany.com.
Photo: Sydney Dance Company dancers in the studio with Rafael Bonachela rehearsing Frame of Mind. Photo by Peter Greig.