New dance book being released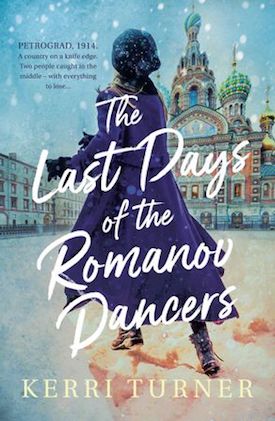 Kerri Turner, who has long been involved in the Australian dance industry, has written a new dance book that is being released through HarperCollins. Called The Last Days of the Romanov Dancers, it is historical fiction focused on the Imperial Russian Ballet and the dancers within the company, such as Mathilde Kschessinska.
Holding an Associate Degree in Dance from QUT, Turner drew on her own dance experience, historical research, as well as interviews with dancers like Yulia Furnas (former principal dancer with Russian Seasons State Dance Company) to write this book.
She told us, "I'm excited to be bringing the world of Russian ballet to those who have long held a love for it, as well as people who otherwise might not learn about it."
The story takes place in Petrograd in 1914, described as a time when the country was "on a knife edge". The book's synopsis reads: "Valentina Yershova's position in the Romanovs' Imperial Russian Ballet is the only thing that keeps her from the clutches of poverty. With implacable determination, she has clawed her way through the ranks, relying not only on her talent but her alliances with influential men that grant them her body, but never her heart. Then Luka Zhirkov - the gifted son of a factory worker - joins the company, and suddenly everything she has built is put at risk."
It continues, "For Luka, being accepted into the company fulfils a lifelong dream. But in the eyes of his proletariat father, it makes him a traitor. As civil war tightens its grip and the country starves, Luka is torn between his growing connection to Valentina and his guilt for their lavish way of life. For the Imperial Russian Ballet has become the ultimate symbol of Romanov indulgence, and soon the lovers are forced to choose: their country, their art or each other…"
For further information and to see where the book may be found, visit www.harpercollins.com.au.
---