NAISDA Lester Horton Dance Master Classes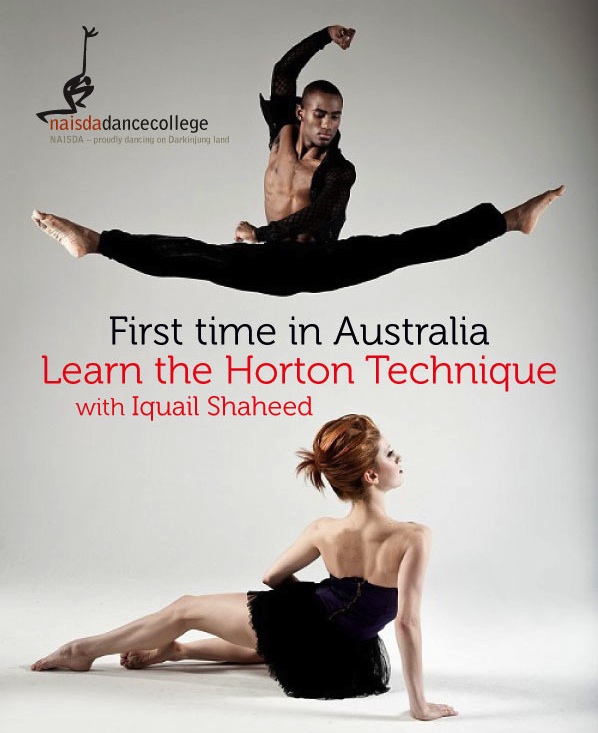 For the first time in Australia, dancers will have the opportunity to learn the Lester Horton Technique with Iquail Shaheed. The world-renowned Alvin Ailey teacher will offer three explosive days of master classes and repertoire workshops at NAISDA Dance College in Kariong, NSW on Tuesday-Thursday, April 22-24.
This unique opportunity awaits pre-professional and professional dancers, who are encouraged to register early since classes are limited to only 30 participants.
The Lester Horton Technique was created and named after historic dance pioneer Lester Horton, known as the mentor of modern dance luminary Alvin Ailey. It is a major codified modern dance technique reputed to fortify, stretch and strengthen the human body. It aims to correct physical faults and prepare dancers for any type of movement they may wish to pursue. The fundamentals of the Horton technique include flat backs, primitive squats, lateral stretches, release swings, leg swings, deep lunges, coccyx balance and stag positions.
Award-winning professional dancer, choreographer and artistic director Iquail Shaheed will lead the master classes. He has trained on scholarship at The Alvin Ailey American Dance Center, The Martha Graham Center for Contemporary Dance, The Paul Taylor School, The Juilliard School, Jacob's Pillow, Pennsylvania Ballet and International Ballet Theatre Schools, among many others. He received a Bachelor of Fine Arts degree in Ballet Performance from the University of the Arts, and a Master of Fine Arts degree from Purchase College – SUNY. As a professional dancer, he has worked with companies such as Compagnie Thor (Brussels), The Sean Curran Company, Ronald K Brown/ Evidence and The Fred Benjamin Dance Company. He has also appeared in various Broadway productions including Hot Feet and The Lion King, and leads his own dance company Dance Iquail!.
Currently, Shaheed is on faculty at The Ailey School, Steps on Broadway and Harlem School for the Arts. He has taught at Alonzo King's Lines Ballet School, Centre Stage, the Philadelphia High School for the Creative and Performing Arts High School and Purchase College – SUNY.
The total cost of the NAISDA program is $450. Dancers must attend for the entire week. For more information or to register, email k.walker@naisda.com.au.
As part of the program, NAISDA will provide a bus service from Gosford station and return each day.