Moulin Rouge returns to host auditions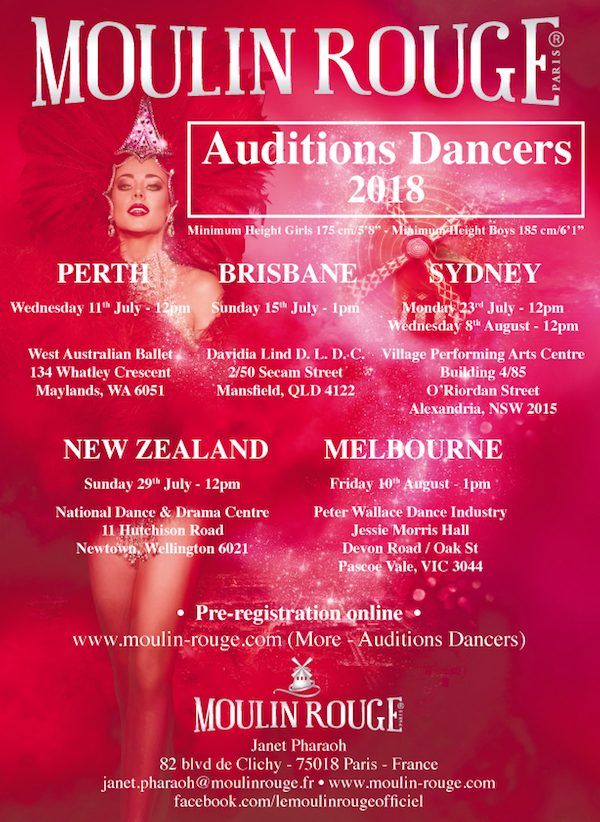 The Moulin Rouge has announced that it is returning to Australia again to audition for tall, confident and well-trained dancers. Casting directors will fly in straight from Paris and will seek performers for the most famous cabaret in the world, which has been presenting dancing shows for more than 126 years.
The Moulin Rouge will kick off its 2018 Australian Audition Tour in Perth. Then it will visit Brisbane, Sydney and Melbourne before heading to Wellington, New Zealand. (At this time, there is no mention of auditions coming to Adelaide or Cairns, as in previous years.) See all the dates and locations below. Pre-register for any of these auditions online at www.moulinrouge.fr.
The casting criteria for the Moulin Rouge requires performers have serious dance training with a good classical base and an advanced modern and jazz background. Female dancers must be at least 175cm, or 5'9. The minimum height for male dancers is 185cm, or 6'1. Women should have a slim, graceful figure while men have a well-proportioned muscular body. Performers must have a great stage presence and bright personality.
In its iconic Paris theatre, the Moulin Rouge presents multiple high-energy shows every single day of the year, including Christmas and New Year's! It's magical spectacular is full of feathers, sequins and surprises – entertaining from beginning to end.
2018 Australian Auditions
Perth
Wednesday 11th July – 12 p.m.
West Australian Ballet Centre,
134 Whatley Crescent,
Maylands, WA 6051

Brisbane
Sunday 15th July – 1 p.m.
D.L.D.C. (Davidia Lind Dance Centre),
2/50 Secam Street,
Mansfield, QLD 4122

Sydney
Monday 23rd July – 12 p.m.
Wednesday 8th August – 12 p.m.
Village Performing Arts Centre,
Building 4/85 O'Riordan Street,
Alexandria, NSW 2015
Melbourne
Friday 10th August – 1 p.m.
Peter Wallace Dance Industry,
Jessie Morris Hall,
Car Devon Rd / Oak St,
Pascoe Vale, VIC 3044
Wellington, NZ
Sunday 29th July – 12 p.m.
National Dance & Drama Centre,
11 Hutchinson Road,
Newtown, Wellington 6021
Visit the website to pre-register:
www.moulinrouge.fr/the/auditions-danseurs?lang=en
---