'Men of the Red Earth' in remote WA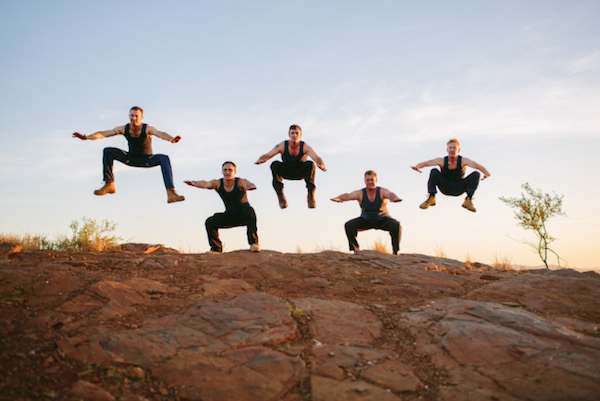 Starring 18 everyday blokes of the Pilbara, Men of the Red Earth is part of the groundbreaking 2013 season of the Ausdance initiative Future Landings, which aims to bring contemporary dance to the most remote destinations in Western Australia.
Presenting extreme dancing by men of varying ages and experience, the show will be set against nature and the sunset in Point Samson on Wednesday 18 September and Karratha on Friday 20 September.
Created by local Karratha choreographer Megan Wood-Hill with choreographic mentor Jacob Lehrer, Men of the Red Earth brings three months of rehearsals to culmination in these performances as real, everyday men offer a performance about being a man in the Red Earth.
The performers come from numerous backgrounds, with many being regular blokes who are trading hardhats and workman boots to train barefoot in a studio. The troupe is made up of miners, tradesmen and other Karratha workers, all who made the decision to try something new and different compared to the conventional male recreational activities of fishing, camping and sport.
Ultimately, the goal of Men of the Red Earth and the host Future Landings program is to encourage dancing in country WA.
Viewers coming out for the performances are asked to bring their own chairs, and maybe even a picnic, to enjoy the show. For more information, visit the Future Landings Facebook page at www.facebook.com/FutureLandings.
Photo courtesy of Ausdance WA.