Melbourne City Ballet unveils 2019 Season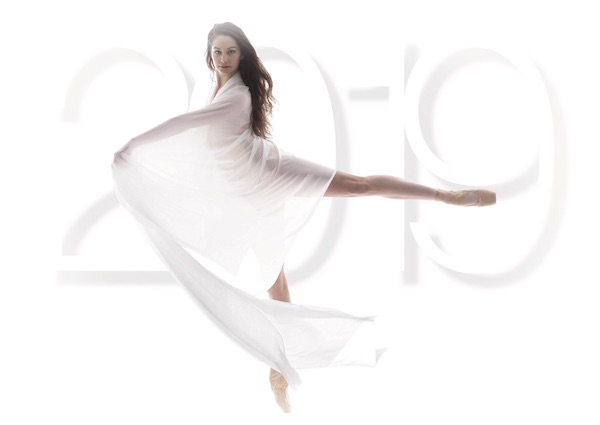 Artistic Director Michael Pappalardo has now announced Melbourne City Ballet's sixth season. 2019 will bring "A Touch of Magic" - featuring some of the company's most popular repertoire, two new ballets for the organisation, an international tour and its largest national tour to date.
Pappalardo's vision for the year is to bring magic to the stage, fill audiences with joy and showcase classical dance to the far reaches of Australia.
"2019 is set to be MCB's biggest year. My aim was to add a touch of magic to each season, inspire young dancers and entertain audiences both across the country and internationally," Pappalardo said.
Beginning the year with a new collaboration between Pappalardo and Artistic Associate Brendan Bradshaw, Alice in Wonderland will tour nationally to over 40 locations and for the first time will take MCB across the Tasman touring to 15 locations in New Zealand. From Darwin to Dunedin this will be the company's longest tour and is sure to become another favourite ballet across the country and with our audiences.
Melbourne City Ballet will then click its heels together again with its critically acclaimed production of The Wonderful Wizard of Oz. After its sold-out season in 2017 this classical favourite will tour NSW, VIC and Queensland in 2019. The company's largest touring production to date, this ballet features extravagant costumes and sets and will take audiences on a classical journey down the yellow brick road.
A bold new production will grace the stage for MCB's third program. Pappalardo takes on another Shakespearean classic with Taming of the Shrew. Inspired by the movement of the times his interpretation is set in the 1930's. This classical fusion with a new score and live band will be an exciting, fresh work for the company and is not to be missed.
Now an annual event, MCB's The Nutcracker will enjoy its third year. However, it will not only tour suburban Melbourne in 2019, but also across Tasmania. From 2019 this annual production will also be accompanied by a live orchestra in Melbourne venues.
"MCB continues to grow and adding an orchestra to The Nutcracker production for Melbourne was a natural progression. Having a live band for Taming of the Shrew and an orchestra for The Nutcracker are just the first steps. I envisage that all our Melbourne performances in the near future will feature live music," Pappalardo explained.
The company will continue its focus on bringing ballet to the community in 2019. Continuing to deliver its extensive community participation and workshop programs, young dancers across the county will be invited to audition for roles in Alice in Wonderland, The Wonderful Wizard of Oz and The Nutcracker.
With the continued growth of the organisation's touring network, new partnerships, larger community engagement, extensive outreach and a commitment to building on classical art, MCB is set to launch into another exciting year in 2019.
See the full Season 2019 schedule below. Visit www.MelbourneCityBallet.com.au for more information.
SEASON 2019
Alice in Wonderland New Zealand Tour
Turner Centre, Kerikeri, 27 March

Forum North, Whangarei, 28 March

The Pump House, Takapuna, 29 March

Raye Freedman Arts Centre, Auckland, 30 March

The Plaza, Putarura, 31 March

Napier Municipal Theatre, Napier, 1 April

The Gisborne War Memorial Theatre, Gisborne, 3 April

Royal Wanganui Opera House, Wanganui, 5 April

Carterton Events Centre, Carterton, 6 April

Hannah Playhouse, Wellington, 7 & 10 April

Whirinaki Arts and Entertainment Centre, Upper Hutt, 11 April

Regent Theatre, Dunedin, 12 April

Invercargill Civic Theatre, Invercargill, 13 April

Queenstown Memorial Centre, Queenstown, 14 April
Alice in Wonderland National Tour
Clock Tower, Moonee Ponds, 15 - 17 March

Redcliffe Cultural Centre, Redcliffe, 27 April

Byron Community Centre, Byron Bay, 28 April

Ipswich Civic Centre, Ipswich, 30 April

Gladstone Entertainment and Convention Centre, Gladstone, 2 May

Capella Cultural Centre, Capella, 3 May

Burdekin Theatre, Ayr, 5 May

The World Theatre, Charters Towers, 11 May

Broken Hill Entertainment Centre, Broken Hill, 23 May

Morundah Theatre, Morundah, 25 May

Potato Shed, Drysdale, 31 May

La Trobe Performing Arts Centre, Traralgon, 1 June

The Wedge, Sale, 2 June

Cardinia Cultural Centre, Date TBA

Wangaratta Performing Arts Centre, Wangaratta, 8 June

TAS Hoskins, Armidale, 28 June

Roxy Theatre, Bingara, 29 June

Civic Hall, Gunnedah, 6 July

The Capitol Theatre, Tamworth, 7 July

The Crossing Theatre, Narrabri, 10 July

Inverell Town Hall, Inverell, 11 July

School of Arts, Tenterfield, 12 July

The Chapel Theatre, Glen Innes, 13 July

Jette Memorial Theatre, Coffs Harbour, 14 July

Blue Mountains Cultural Centre, Blue Mountains, 19 July

Glasshouse, Port Macquarie, 20 July

Darwin Entertainment Centre, Darwin, 1 August

Godinymayin Yijard Rivers Cultural Centre, Katherine, 2 August

Desert Harmony Festival, Tennant Creek, 4 August
Taming of the Shrew
Clock Tower, 30 August - 1 September
The Wonderful Wizard of Oz
Laycock Theatre, Gosford, 4 October

Glasshouse, Port Macquarie, 5 October

TBA, Sydney, 6 October

Chaffey Theatre, Renmark, 9 October

Middleback Theatre, Whyalla, 10 October

Northern Festival Centre, Port Pirie, 11 October

Robert Helpmann, Mount Gambier, 13 October

Redcliffe Cultural Centre, Redcliffe, 19 October

Civic Theatre, Townsville, 23 October
The Nutcracker
Frankston Arts Centre, Frankston, TBC

Geelong Performing Arts Centre, Geelong, 12 December

Darebin Arts Centre, Melbourne, 13 - 15 December

Burnie Arts and Function Centre, Burnie, 18 December

Devonport Entertainment Centre, Devonport, 19 December

Theatre North, Launceston, 20 December

Theatre Royal, Hobart, 22 December
---