MCB holds Pointe Shoe Appeal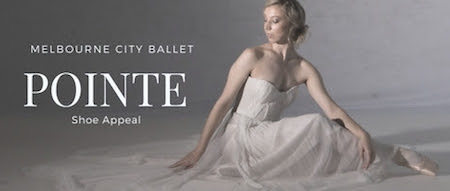 Melbourne City Ballet (MCB) launched its latest Pointe Shoe Appeal in early December. Generously supported by Creative Partnerships Australia through Plus1, the company announced that its appeal will see all donations received matched dollar for dollar. This means any contribution will be doubled and can help turn one humble shoe into a perfect pair of pointes!
A single pair of handmade pointe shoes costs upwards of $80 a pair. Depending on the performance season, a pair of pointes may only last through one day's rehearsals and performances! Overall, MCB spends more than $20,000 per year on pointe shoes.
With pointe shoes, professional artists have to typically shape, mould and alter their shoes to perfectly fit their feet. To donate to Company Artists' tools of the trade, visit www.melbournecityballet.com.au/pointeshoeappeal.
Donations of $15 buy the required ribbons and elastics for one pair of pointe shoes. Donations of $80 buy one pair of pointe shoes for a Company Artist. And finally, $160 buys pointe shoes for a Company Artist for one production.
As of right now, donors include Peter Gillahan of National Photography and Capezio Australia. Visit www.melbournecityballet.com.au for more information or to make a donation and join MCB's story!
Photo: MCB Company Artist Emma Cheeseman. Photo courtesy of MCB.
---