'Madiba The Musical' announces first cast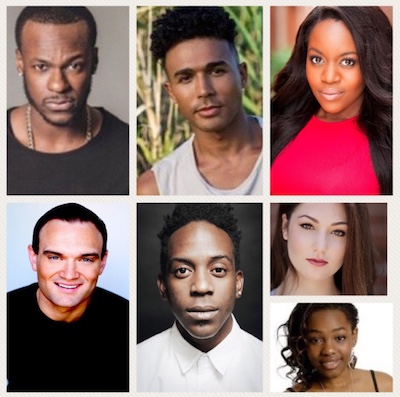 The creators of inspiring and energetic new stage show Madiba The Musical – A Celebration of the Life of Nelson Mandela have announced the cast members for the show's upcoming Australian premiere, with the role of Nelson Mandela yet to be revealed.
Directed by Pierre-Yves Duchesne and Dennis Watkins, Musical Director Michael Tyack and Choreographer Johan Nus, the following artists are starring in this production: Tim Omaji, Tarisai Vushe, Blake Erickson, Madeline Perrone, Barry Conrad, Ruva Ngwenya and David Denis. Artists in the ensemble are Joe Gaudion, Courtney Bell and Riley Sutton.
Popular Australian actor, dance extraordinaire and singer Tim Omaji, also known by stage name "Timomatic", plays the role of Sam Onatou, a young black activist who is arrested in South Africa and meets the man known as "Madiba", or Nelson Mandela, in prison. Nigerian-born Tim Omaji first rose to fame as a contestant on So You Think You Can Dance Australia in 2009 and placed seventh in the competition.
Tarisai Vushe plays Sam's fiancée Sandy, who works for the family of a white policeman, Peter Van Ledon, played by Sydney actor Blake Erickson.
Madeline Perrone plays the policeman's daughter Helena, who Sam asks to help free Mandela. Barry Conrad, Sam's younger brother William, falls in love with Helena. As a fictional parallel story to Mandela's work as a lawyer and activist for peace, the romance between young artist Will and white Afrikaans girl Helena tells of the struggle and tragedy of the apartheid regimen.
Following her performance as Shirelles lead singer Shirley Owens in the successful national touring production of Beautiful: The Carole King Musical, Ruva Ngwenya plays the role of Winnie Mandela.
French writers Alicia Sebrien and Jean-Pierre Hadida said in creating Madiba The Musical they wanted to tell the story of Mandela's pursuit of peace and reconciliation in his homeland. They said the musical was also timed to mark 25 years since the abolition of apartheid in South Africa, and the year that Mandela would have turned 100 if he was still alive.
The first English language production of Madiba The Musical opens in Australia in October 2018 following acclaimed performances in France, Northern Africa and the West Indies. In 2019 the show is set to tour to New Zealand and other international markets soon to be announced.
The National Australian Tour of Madiba The Musical
MELBOURNE
3 to 21 October
Comedy Theatre
SYDNEY
1 to 11 November
State Theatre
CANBERRA
22 to 24 November
Canberra Theatre
For more information or to book tickets, visit www.madibamusical.com.au.
---