Lisa Tomasetti's Australian Ballet photos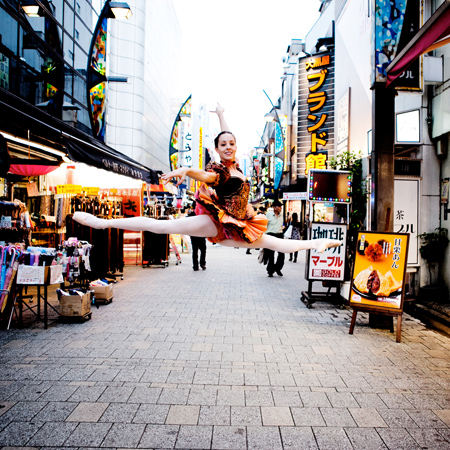 Renowned photographer Lisa Tomasetti's stunning body of work "Behind the Scenes: The Australian Ballet on the International Stage" presents photographs of company dancers taken on their tours to Tokyo, Paris and New York City.
As her first exhibition at Salerno Gallery, Tomasetti will have her photographs showcased starting mid-April. An opening night celebration will take place from 6- 8 p.m. on Sunday, April 14.
In her photographs, Tomasetti has removed the ballerinas from the stage as they dance, pirouette and leap through city streets. These riveting images fuse high gloss performance with gritty urban reality, while capturing the passion for movement embodied by the dancers.
In one photo, a ballerina leaps in a colorful, busy market in Tokyo, her costume's red, orange and black design nicely corresponding to the yellow street signs. In another photo, Tomasetti has four dancers in pristine white tutus jumping in a busy New York City street. In a more regal, elegant approach, she places a lone ballerina in the Imperial Palace gardens with an umbrella.
The exhibit "Behind the Scenes: The Australian Ballet on the International Stage" runs through April 28 at Salerno Gallery, located at 70 Glebe Point Road, Glebe, NSW. For more information on the exhibit or the gallery, call (02) 9660 0899
 or email contact@salernogallery.com. The gallery is open Tuesday to Friday from 10 a.m. to 5:30 p.m., Saturday from 10 a.m. to 3:30 p.m., and on other days by appointment.
Tomasetti has been a Film Stills Photographer and Visual Artist since 1990. Her work has been exhibited throughout Australia and collected by the Australian National Gallery, Art Gallery of Western Australian, Art Gallery of South Australia and the Chekhov Museum in Moscow. Tomasetti served as the official photographer for The Australian Ballet's Paris tour in 2008 and Tokyo tour in 2010.
Photo: An Australian Ballet dancer in a market in Tokyo. Photo by Lisa Tomasetti.