La Scala Ballet's 'Le Corsaire' now in cinemas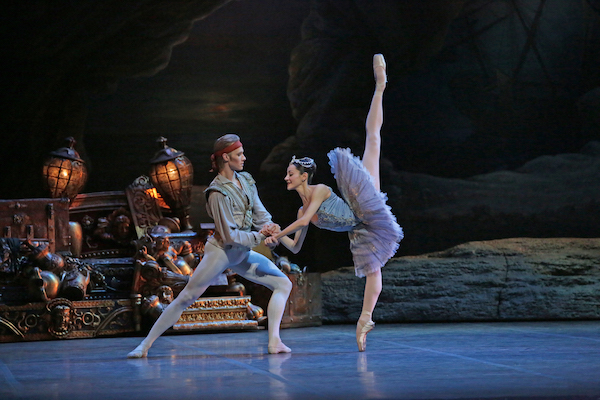 Ahead of its Brisbane tour this November, Italy's celebrated La Scala Ballet Company has taken to the Australian big screen. Beginning last weekend, cinemas nationwide are presenting a current-season performance of Le Corsaire, captured live from the La Scala stage.
Acclaimed Canadian choreographer Anna-Marie Holmes' exhilarating production, seen at American Ballet Theatre and English National Ballet, invades the stage at La Scala in this screening, with new sets and costumes by Luisa Spinatelli.
Filled with action, passion and romance, this swashbuckling comedy, based on The Corsair by Lord Byron, follows a dashing pirate, Conrad (Timofej Andrijashenko), as he journeys across the high seas to save his beautiful harem girl Medora (Nicoletta Manni).
An exotic, breathtaking spectacle, and an adventure not to be missed, this is La Scala's first staging of Le Corsaire since the 19th century, when Giovanni Galzerani's production was presented on the Piermarini stage in 1826, and Domenico Ronzani's in 1857. The cinema screening includes the full performance, as well as exclusive behind-the-scenes interviews and features.
Le Corsaire from Teatro alla Scala screens as part of the 2017-18 Palace Opera & Ballet Cinema Season, which also features opera and ballet performances from Opera National de Paris and Opera di Roma.
For full programme information, including participating cinemas, visit www.palaceoperaandballet.com.au.
In total, screenings are taking place in Melbourne (Palace Balwyn, Brighton Bay & Cinema Como), Sydney (Palace Central, Verona & Norton Street), Adelaide (Palace Nova Prospect), Brisbane (Palace Barracks), Canberra (Palace Electric), Perth (Cinema Paradiso) and Hobart (State Cinema).
Photo courtesy of Palace Opera & Ballet.
---