Kick off your summer dancing in Sydney!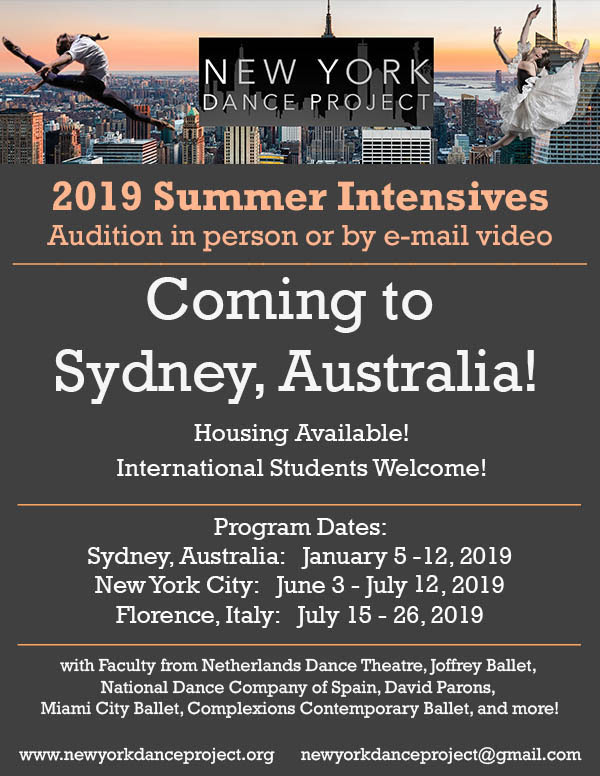 New York Dance Project's Summer Intensive in Sydney, Australia offers rigorous ballet and contemporary training during two consecutive four-day weekend workshops.
New York Dance Project, a dance company with a diverse repertory ranging from traditional ballets to new contemporary works, brings its excellent faculty to Sydney for its intensive. The faculty will work with each dancer to achieve their fullest professional potential, giving them intensive individual attention, tailoring the repertory to challenge and educate them, and providing an experience for them to better understand what it takes to be a professional dancer.
New York Dance Project's summer intensive includes ballet, modern, pointe, variations, contemporary and improvisation classes, and is described as "a perfect way for dancers to challenge themselves both technically and artistically".
Designed with a half-day program for students ages 10-12 (Juniors) and full day for young professionals ages 12-25 (Seniors), the summer intensive walks dancers through the rigorous development of technique. It will explore new ways of moving while considering dance history. Students will create new work, but also be introduced to the iconic repertory of choreographers Gerald Arpino and Robert Joffrey.
Students in all programs will take classes taught by New York Dance Project Artistic Director Davis Robertson, formerly with The Joffrey Ballet and Movin' Out on Broadway. Other NYDP Faculty includes Africa Guzman of Netherlands Dans Theater and Compania Nacional de Danza in Madrid.
For more information on this exciting way to kick off your summer, visit www.newyorkdanceproject.org. Email newyorkdanceproject@gmail.com with any specific inquiries.
---