KAGE to premiere 'Forklift' at Sydney Fest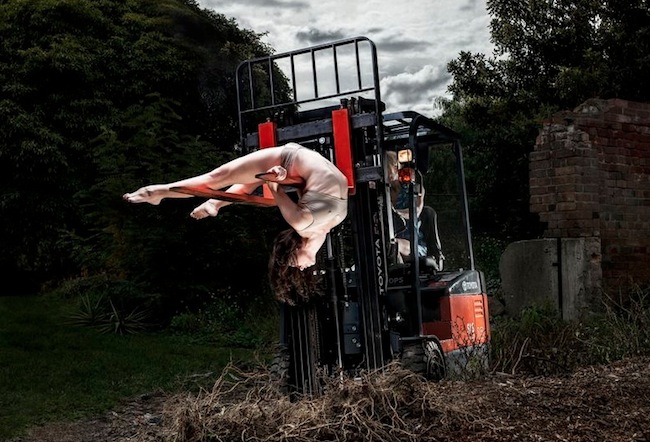 Lyrical, intimate and dangerous, Forklift is the new dance-circus performance work from the multi award-winning KAGE dance theatre company. Featuring contortion, aerial acrobatics, striking lighting effects and original music, this breathtaking work will have its world premiere in January at Sydney Festival 2014.
Re-imagining the possibilities of heavy machinery into a playful and dangerous sphere, Forklift will boast KAGE's vigorous physicality on, and around, a working 2.5 tonne forklift, examining both the connection and conflicting relationship between humankind and machinery.
Forklift, directed by Kate Denborough, will combine the talents of three articulate and distinctive female artists – Henna Kaikula, Amy Macpherson and Nicci Wilks. Set to music by Jethro Woodward, the work will be placed on a set designed by Bluebottle 3 with the collaboration of Ben Cobham.
The work has been created in numerous development sessions, including residencies and rehearsals in Brisbane, Melbourne and Finland. It will be premiered on Thursday 16 January at 7 p.m. at Carriageworks at Bay 17, located at 245 Wilson Street in Eveleigh. Other performances will be held on Saturday 18 and Sunday 19 January at 2 p.m. and 7:30 p.m.
To book tickets, call Sydney Festival at 1300 856 876. Single tickets are now on sale. For more information, visit www.sydneyfestival.org.au.
Forklift will also be presented in Melbourne at Theatres Forecourt, Arts Centre Melbourne, from Wednesday February 12 to Sunday February 16 at 6:30pm and 9pm.
Photo by Justin Bernhaut.