KAGE produces work on dementia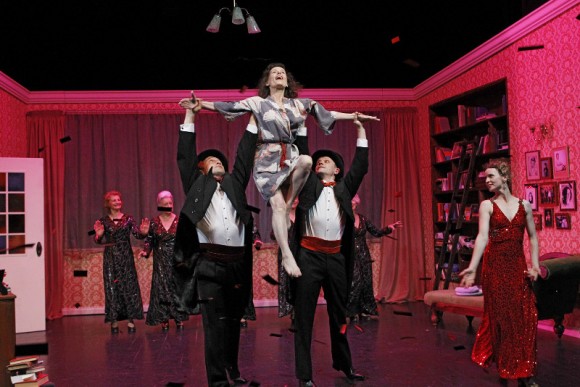 KAGE's deeply moving work Sundowner will begin a four-month, 32-date national tour on 5 March at Riverside Theatres, Paramatta. Sundowner explores the fear, humour and dignity of those living with younger onset dementia. With a powerhouse performance by acclaimed actor Helen Morse and featuring original dancers from the Tivoli Theatre, Sundowner shifts effortlessly between past and present, drama and dance, memory and hallucination. This production marks KAGE, now in its 15th year, as one of Australia's leading performance companies.
The realm of memory remains a great mystery. Through the eyes of three generations, Sundowner tells the story of so many Australian families. When a loved one starts to lose their memories, families begin to ask themselves, "What role can we play in holding on to them?" and "How can we care for them in the present while honouring their memory?"
Sundowner combines theatre, dance and physicality in a story of lament and at times, grief and sorrow. Ultimately though, this is a story of love: love of family, love of history and love of life.
Developed by KAGE's co‐creative director Kate Denborough and writer David Denborough, with the assistance of Alzheimer's Australia, the work grew out of stories told by people with dementia and their carers – stories both sad and funny. The process of making the work was the subject of a highly regarded ABC Artscape documentary.
Featuring new and original music by Megan Washington and Paul Kelly, Sundowner highlights that humour, although dark, can play a significant part in the way people cope with the disease.
Founded by Kate Denborough and Gerard Van Dyck in 1997, KAGE is a multi award-winning company that creates critically acclaimed work across dance, physical theatre and drama that is technically rigorous, visually striking and emotionally resonant.
Sundowner's national tour is supported by Performing Lines for Road Work – a consortium of regional venues established to develop opportunities for regional audiences to engage with new and stimulating Australian work.
For more information on Sundowner or the tour, visit performinglines.org.au.
Photo: Sundowner, directed by Kate Denborough and starring Helen Morse. Photo by Jeff Busby.