IADMS seeks dance educator nominations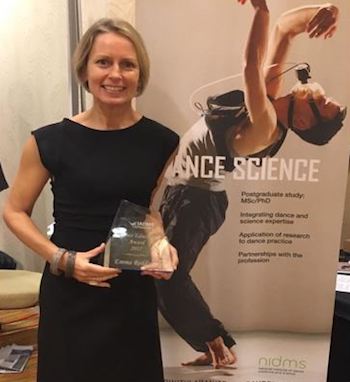 The Dance Educators' Committee of the International Association of Dance Medicine and Science (IADMS) promotes communication and education for dance teachers, students, parents, professional dancers, and the medical and other health practitioners who provide their care. The Committee also seeks to recognize teachers who integrate principles of dance science in their teaching and is seeking nominations for the 2018 IADMS Dance Educators' Award from around the world.
The recipient of this recognition is an IADMS member who shows evidence of substantial impact through teaching dance and has influenced future dance teachers. Additional evidence for the award comes from service to the field of dance medicine and science as well as mentoring students participating in dance medicine and science events and conferences.
The 2017 IADMS Dance Educators' Committee Dance Educator Award was presented to Professor Emma Redding PhD, who joins Dr. Janice Plastino, recipient of the first IADMS Dance Educator Award in 2014, Janet Karin, recipient of the award in 2015, and Dr. Tom Welsh in 2016.
The criteria for the award describe a dance educator who: demonstrates long standing support for the integration and implementation of dance science in the classroom; has developed a system of training based on sound knowledge of human anatomy, physiology and/or psychology; can address artistic and pedagogical priorities within a scientific context to help researchers understand the art of dance and dance teaching; demonstrates innovative thinking in teaching and is not afraid to challenge myths and historical methods; and demonstrates an ongoing commitment to furthering the field of dance and dance science and IADMS as an organization.
Nomination submissions will close May 1, 2018. Submit a nomination through www.iadms.org/page/educator_award.
The candidate will be selected by the Dance Educators' Committee and will be recognized at the IADMS Annual Meeting in Helsinki in October 2018.
Photo: Emma Redding receiving her award at the Annual Meeting in Houston in 2017. Photo courtesy of IADMS.
---