Heads Up for Dance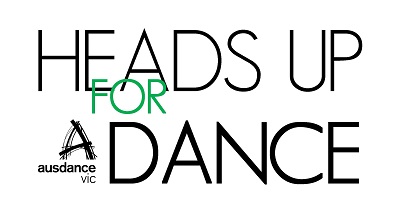 Ausdance Victoria is currently running a fun campaign called Heads up for Dance. It is a series of short films that celebrate the diversity of the dance community in Victoria. Heads up for Dance will showcase dancers from urban, regional and rural Victoria who participate in dance as performers, teachers and community members. Participants will be selected from professional, community and recreational dance sectors, showcasing a range of dance styles and ages.

We rarely have an opportunity to hear dancers tell their story. The image of dance in the popular media is of costumed performers: sleek ballet dancers, jeweled belly dancers and hooded hip hop artists. These images are a very limited snapshot of what goes on in the dance community. Heads up for Dance will give a more diverse range of dancers the chance to tell the story of their dance journey.
Ausdance plans to use Heads up for Dance to broaden the range of perceptions of what it is to be a dancer, the types of people who dance, and the range of opportunities for dancing in the professional, community and educational sectors.
To view the series so far visit www.youtube.com/channel/UCpCOORsfXNluHwxtxVhchOg