Hayes Theatre Co opens 'Darlinghurst Nights'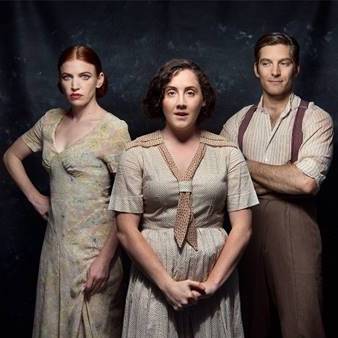 This week, Hayes Theatre Co in Sydney opens a new production from Helpmann Award-winning director Lee Lewis. Darlinghurst Nights is a classic Australian musical celebrating its 30th anniversary. It will take place on the streets around the theatre.
Lewis said, "Sometimes it is important to look back in order to find our way forward, as artists and as a society. Darlinghurst Nights is one of the great artistic markers of identity woven together with the voices of two of our greatest writers, Kenneth Slessor and Katherine Thomson. Together they speak in a work that is distinctively Australian of what will always matter to us, as artists, as a city and as a society."
Darlinghurst Nights explores the seductiveness of a life authentically lived, of a world where people can live without fear of intolerance amidst Sydney's most colourful strip. Set during the 1920s and 30s, and inspired by Sydney poet Kenneth Slessor, the writer Katherine Thomson (Diving For Pearls) and composer Max Lambert (Miracle City) capture a time when Kings Cross was the only place in Sydney where a person could live anonymously; where bohemian lifestyles were accepted and even encouraged.
The three women in the story - Mabel, Cora and Rose - come from different backgrounds and find themselves in different situations, but they are all fighting against the restrictions imposed on them by society and circumstance, and are searching for a way to live the lives they want for themselves.
At another moment of existential upheaval for Kings Cross, Darlinghurst Nights takes us back 80 years to a world we recognize.
"Part of Darlinghurst Nights success and appeal is it speaks of another time," Lambert said. "Kings Cross was the first high rise in Australia – with all that entails - and I think Darlinghurst Nights still speaks to us as the Cross changes again."
The musical was first produced by the Sydney Theatre Company in 1988, where it was a phenomenal success. It was revived in 2000 for the Olympic Arts Festival at Sydney Opera House.
Hayes Theatre Co's cast includes Baylie Carson (Dusty, Hello Dolly) as Mabel, Andrew Cutcliffe (Melba, Calendar Girls) as Frank, Natalie Gamsu (Ladies in Black, Strictly Ballroom) as Rose, Abe Mitchell (Paper Planet, A Riff on Keef) as Spud, Billie Rose Prichard (A Midsummer Night's Dream, The Dark Room) as Cora, Sean O'Shea (Dinner, Rupert) as Ken, and Justin Smith (Assassins, The Detective's Handbook) as Joe.
With choreography by John O'Connell, Darlinghurst Nights runs January 4 to February 3. For more information or to book tickets, visit www.hayestheatre.com.au.
Photo courtesy of Hayes Theatre Co.
---