Harlequin Floors reflects on 2015 Australian Dance Awards in Adelaide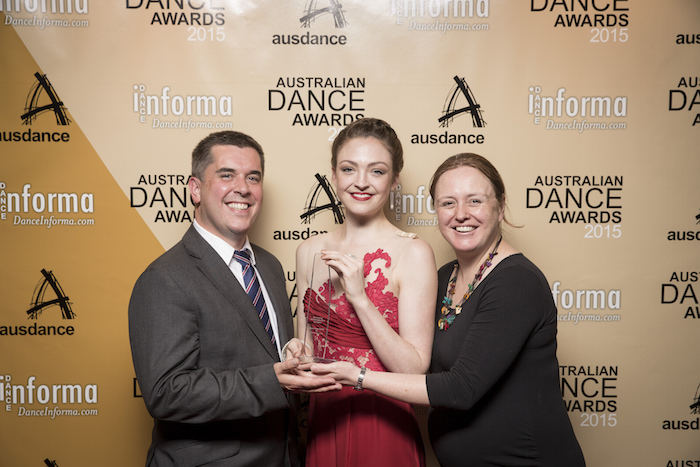 Ausdance and Harlequin Floors staged the 18th Australian Dance Awards on Saturday, September 12, bringing the prestigious event to Adelaide for the very first time. The Awards recognise and honour professional Australian dance artists who have made an outstanding contribution to dance.
A great night was had by all, with outstanding performances from many, including Restless Dance Theatre, Melbourne City Ballet and Australian Dance Theatre (which is also celebrating its 50th anniversary this year.)
Australian Dance Theatre Artistic Director Garry Stewart said, "It was an absolute thrill for us as a South Australian-based company to have the Awards presented in Adelaide for the first time to coincide with our 50th anniversary, and an honour to be part of the evening's program. We have heard nothing but great feedback about the night."
Harlequin Floors was once again the main sponsor and also presented Queensland Ballet with the Award for "Outstanding Performance by a Company" for Romeo & Juliet, which was accepted by Principal Dancer Clare Morehen.
Harlequin Floors' Managing Director Guy Dagger said, "The night was truly incredible and it was a pleasure to witness such talent in one place. We are honoured to be part of the Awards and look forward to continuing our relationship with Ausdance."
To see the list of winners of the 2015 Australian Dance Awards, head to www.danceinforma.com.au/articles/2015-australian-dance-awards-winners.
Photo: Guy Dagger of Harlequin Floors and Roslyn Dundas of Ausdance presenting Clare Morehen of Queensland Ballet (middle) with the Award for "Outstanding Performance by a Company" for Romeo & Juliet. Photo by Shane Reid.
---