'Happy as Larry' tours Europe and Middle East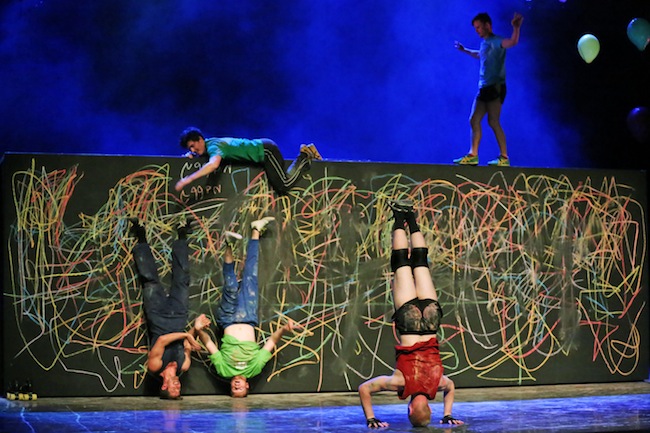 Following its world premiere season of the new work AM I at the Sydney Opera House in early 2014, Shaun Parker & Company is now showcasing its hugely popular Australian Festival commission Happy as Larry in five countries across Eastern Europe and the Middle East.
On Monday, April 7, Shaun Parker & Company made its European debut at the Belgrade Dance Festival in Serbia, where it headlined alongside world-class acts such as Akram Khan (UK), Ultima Vez (Belgium), Pierre Rigal (France) and Russell Maliphant Company (UK).
On Thursday, April 10, the company played the Posthof in Linz, Austria before touring to the Beirut International Platform of Dance (Bipod) in Lebanon and the Amman Contemporary Dance Festival in Jordan. Shaun Parker & Company will conclude its tour at the Ramallah Contemporary Dance Festival in Palestine today, on Tuesday, April 22.
Happy as Larry, a feel-good festival hit, investigates the elusive nature of happiness, fusing gritty realism with jaw-dropping performances to create an uplifting exploration of the human condition.
Choreographer Shaun Parker said, "Finding happiness is a universal pursuit shared by all cultures, regardless of religion, political view or cultural background. We are honoured to tour this production to so many diverse regions around the globe."
Happy as Larry was originally commissioned by the Sydney, Brisbane, Perth and New Zealand International Arts Festivals in 2010 and has played 11 venues across the United Kingdom and France, including a sold-out season at London's prestigious Sadler's Wells. Last year, Happy as Larry played 15 venues across five Australian states, delighting a 9,000-strong regional and metropolitan audience.
These invitations to Europe and the Middle East are a direct result of the Australia Council for the Arts' bi-annual Australian Performing Arts Market and exposure of the company's work in the UK.
For more information on Shaun Parker & Company, visit www.shaunparkercompany.com.
Photo by Prudence Upton.