Germany's largest junior company auditions in Sydney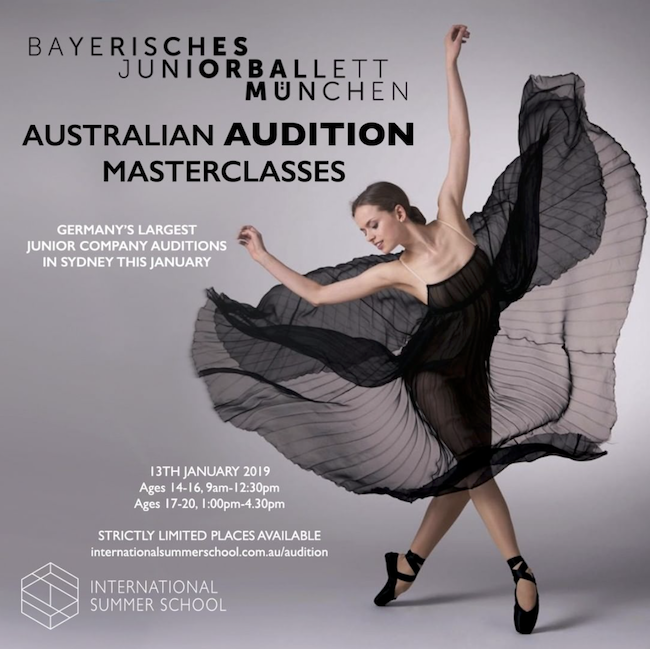 Have you heard? The Bavarian Junior Ballet Munich is auditioning in Sydney this month! International Summer School at The McDonald College will host the company's Audition Masterclass on January 13.
Bavarian Junior Ballet Artistic Director Ivan Liška invites pre-professional dancers (aged 14-20) with excellent classical and contemporary training to participate in the Audition Masterclass.
"I'm very pleased to be hosting an audition for our junior company at Sydney's International Summer School this January," Liška said. "We have opened the audition to students aged between 14 - 20 as we are interested to see how students develop over time and to perhaps build pathways that might start careers in the future."
Based out of Munich, Germany, the Bavarian Junior Ballet is a company of 16 dancers between the ages of 17 and 21. It has a repertoire consisting of important ballets by choreographers George Balanchine, August Bournonville, Jiří Kylián and Alexei Ratmansky, as well as new works, as Ivan Liška has a long-term commitment to commissioning new ballets. An impressive array of contemporary choreographers have already been amassed, like Richard Siegal and Aszure Barton.
The Bavarian Junior Ballet Munich perform as apprentices with the Bavarian State Ballet, as well as tour its own repertoire nationally and internationally. The company currently employs two Australian dancers from Sydney.
The Audition Masterclass Format includes Ballet Class, Repertoire Class, then Improvisation. Dancers aged 14-16 will be from 9 a.m. to 12:30 p.m. Dancers aged 17-20 will be from 1 to 4:30 p.m.
Book your spot for the Audition Masterclass at www.internationalsummerschool.com.au/audition. Learn more about the Bavarian Junior Ballet Munich at www.bayerischesjuniorballett.de.
---