Four artists bring creativity to WAAPA's 'Rise'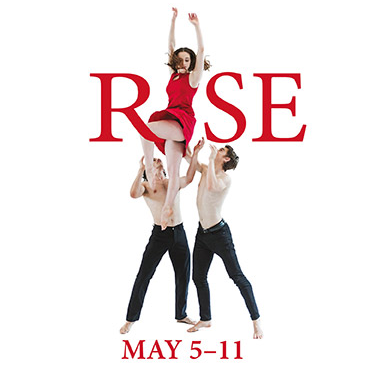 The Western Australian Academy of Performing Arts (WAAPA) at Edith Cowan University (ECU) presents its first dance season for 2018 starting this weekend. The season showcases new works by visiting international choreographer Ori Flomin, Melbourne-based dancer/choreographer Daniel Roberts, and well-known local artists Jayne Smeulders and Natalie Allen.
Rise will be performed by WAAPA's 2nd and 3rd Year Dance students in WAAPA's Geoff Gibbs Theatre from Saturday, May 5 to Friday, May 11 at 7:30 pm.
International guest artist Ori Flomin left his native Israel at 22 to become an independent artist in New York City. Since then, he has carved a dynamic career as a dancer, choreographer, dance and yoga instructor, and Shiatsu therapist.
Flomin describes his work for the Rise season, Together, together, as "about our need to belong and our need to be part of a society that accepts us and that we can rely on and that we depend on."
"Sometimes there's a leader, sometimes people will follow, people will rebel, people will go with or against," says Flomin. "There are moments where we collapse and we need to rely on our community, you've got to keep going, you've got to get up, everybody is still moving so you've got to be part of it."
Together, together was originally created on the Second Avenue Dance Company at the New York University Tisch School of the Arts in 2017 – see Flomin talking about his work with the company online.
Daniel Roberts, who has worked with Singapore Dance Theatre, performed lead roles with the West Australian Ballet (WAB), and was most recently a member of Sydney Dance Company, is using his own personal questions about the nature of being an artist to inform his work with the WAAPA students.
"Creating this work on the WAAPA dancers has come at a time in my life where I am rebuilding myself as a retired dancer and trying to figure out what I am outside of a dance studio and what does it mean to be a performer," Roberts explains.
"I've been so lucky to work with many different choreographers in various styles of dance," he adds. "So in my piece, Under Construction, I am encouraging the dancers to challenge their own thinking of what ballet is and why do they do it."
"The dancers at WAAPA are super talented and focussed. It has been an absolute dream to collaborate with them and also the whole team of production students," Roberts concluded.
Much-loved former WAB principal dancer Jayne Smeulders, who recently joined the staff at WAAPA, is choreographing a new abstract work on the graduating students. Between the Lines explores how the dancers can find meaning within a given structure and movement.
The final work on the Rise program, Panthea, comes from local dancer and choreographer Natalie Allen. The 2008 WAAPA graduate has performed with the UK's Alexander Whitley Dance Company, and in Australia with Sydney Dance Company, Leigh Warren and Dancers, Australian Dance Theatre, Expressions Dance Company and STRUT Dance. Allen received a 2013 Green Room Award for Best Female Dancer in Sydney Dance Company's 2 One Another.
Allen is drawing inspiration for Panthea from Oscar Wilde's poem of the same name. Working with WAAPA's female dancers, she is also exploring female archetypes to inform "these 20 beautiful women about their power, delicacy, humour and vulnerability".
With these four eclectic dance works on the program, Rise promises to be an evening of contemporary dance at its most exciting.
For all venue and performance details, visit www.waapa.ecu.edu.au.
Photo: Rise will be performed by WAAPA's 2nd and 3rd Year Dance students. Photo courtesy of WAAPA.
---