Flava holds auditions for 2019 crews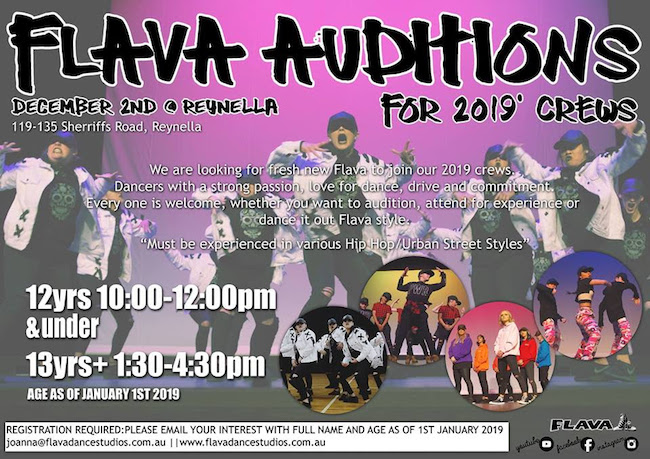 Flava Dance Studios in Reynella, SA is looking for fresh talent to join its 2019 crews! Directors Afroditi Rallis and Marissa Ritorto invite dancers with a strong passion, love for dance, drive and commitment to audition this Sunday, December 2.
Everyone is welcome — you do not have to be a Flava student to attend. You can simply use the experience to dance it out Flava style or to practice auditioning. However, dancers must be experienced in various hip-hop and urban street styles if they want to audition to be in a crew.
Dancers who will be aged 12 and under as of January 2019 will audition from 10 a.m. to 12 p.m. Those who will be 13 or older as of January will audition from 1:30 to 4:30 p.m. Flava Dance Studios is located at 119-135 Sherriffs Road, Reynella SA 5161.
Note that audition registration is required. Email your full name and age as of January 1, 2019 to joanna@flavadancestudios.com.au.
For more information, visit flavadancestudios.com.au or see the Facebook event page here.
---