Fabulous Beast's Rite of Spring in VIC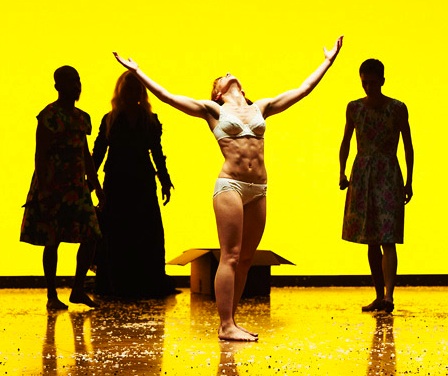 One of the world's most progressive dance theatre companies, Ireland's Fabulous Beast Dance Theatre, will perform an exhilarating double bill celebrating two of Igor Stravinsky's finest works, The Rite of Spring and Petrushka, at the Melbourne Festival on October 11-14.
One hundred years since the premier of Stravinsky's The Rite of Spring by Diaghilev's Ballets Russes in Paris, which caused a near riot and ultimately ushered in a new era in modern dance, Fabulous Beast's interpretation reveals the animalistic side of human behaviour.
Set in post-revolution Russia where battles between the powers of state and individuals were rife, it is played out by 12 dancers in a sequence of violent and explicit sacrifices, which precipitate the arrival of spring. The performance explores fertility rites, ancestor worship, sacrificial death and sometimes-horrific consequences of extreme pressure.
Co-commissioned by a number of international partners, including Melbourne Festival, this new version of The Rite of Spring originally premiered at Sadler's Wells in London earlier this year to rave reviews. It is a reimagining by Fabulous Beast Artistic Director Michael Keegan-Dolan of his own 2009 Olivier-nominated co-production with the English National Opera.
The double bill will continue with Keegan-Dolan's inspired new interpretation of Petrushka, which is set to Stravinsky's 1911 composition and, while only echoes of the original plot remain, audiences can glimpse the personas of the ballerina, the Moor and Petrushka imagined on a striking white stage.
Both pieces together create an intoxicating double bill of dance theatre that honours the searing modernity of Stravinsky's music.
In another rare treat, Serbian piano virtuosos (and sisters), Lidjia and Sanja Bizjak will take to the stage to perform Stravinsky's own four-handed piano arrangement. In their hands, the music takes on an entirely new dramatic role of its own.
Described as "one of the most daring and highly original dance theatre companies in the world" (The Times, UK), Fabulous Beast delivers groundbreaking and controversial productions, blending narrative and physical theatre, dance, speech and song. These include two Olivier award-nominated productions: Giselle (2003) and The Bull (2005), James, Son of James (2007), and Rian (2011), which was nominated for an Irish Times Theatre Award and has toured the world, including the 2013 Sydney Festival.
Artistic Director and choreographer Michael Keegan-Dolan has created numerous productions for Fabulous Beast, including Rian and Giselle. He won the UK Critics' Circle Award in 2008 for best modern choreography (The Bull).
Melbourne Festival Creative Director, Josephine Ridge, said, "The Rite of Spring is powerful and Michael's distinctive visceral style is very much in evidence. The dancers' center of gravity is grounded, primal and powerful; their upper bodies moving almost with abandon. The music is palpable with the piano brought with theatrical energy to the stage by the two Bizjak sisters in the four-handed version of Stravinsky."
"Petrushka was written a couple of years before Rite and it's interesting to hear it in second place in this program – the seeds of Rite are unmistakable."
The Rite of Spring and Petrushka will be presented by the Fabulous Beast Dance Theatre at the Comedy Theatre, located at 240 Exhibition Street in Melbourne. Performances will begin on Friday 11 October and run through Monday 14 October. For more information or to book tickets, visit www.melbournefestival.com.au.
Photo: Fabulous Beast Dance Theatre in The Rite of Spring. Photo by Ros Kavanagh, courtesy of the Melbourne Festival.