Expressions Dance Company's BCDI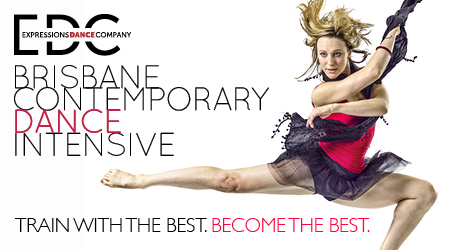 Queensland's multi award-winning Expressions Dance Company has announced the full lineup for the forthcoming Brisbane Contemporary Dance Intensive (BCDI) in January.
Entering its fifth year, this biannual event is regarded as one of Australia's best training programs in contemporary dance, led by a team of specially selected professional dancers and choreographers from around the country.
This summer, joining EDC dancers Jack Ziesing, Michelle Barnett, Elise May and Benjamin Chapman is: Sydney-based choreographer, educator and dance-film maker, Sue Healy; award-winning dancer, choreographer and present Associate Director of Force Majeure, Byron Perry; Brisbane-based independent dance powerhouse, Prying Eye Productions; and renowned dancer and dance facilitator, Joshua Thomson – among others.
The BCDI is divided into two programs, a pre-tertiary training program for 13-17 year olds (minimum four years dance training required), and a tertiary program for emerging dancers aged 17 and above (minimum six years training required).
EDC's Summer BCDI program is set over two weeks with participants given the option to participate in one or both weeks commencing Monday 13 January or Monday 20 January at Queensland University of Technology's dance studios.
Spaces are limited to 15 participants per program and entry is by application only. For more information or to apply, visit expressionsdancecompany.org.au or call EDC on 07 3257 4222.
Image courtesy of Expressions Dance Company.