Expressions Dance Co. launches fundraiser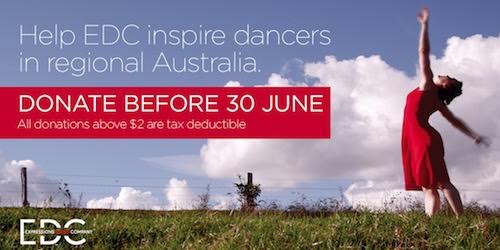 Expressions Dance Company (EDC) has launched a fundraising campaign to help inspire dancers in regional Australia.
One of EDC's key goals is to inspire future dancers, choreographers and audiences. This exciting new campaign aims to raise at least $40,000 before June 30, enabling EDC to deliver free workshops and ongoing mentoring for young dancers as part of its 2015 tour of Natalie Weir's Carmen Sweet to 17 venues across regional Australia.
EDC dancer Elise May grew up in a regional town and feels strongly about providing opportunities to those isolated from the mainstream arts sector.
"I have such fond memories of getting dressed up with Mum and driving five hours to the city to watch dance performances," May said.
Through donations received EDC will be able to provide a life-changing opportunity for some young regional dancers to perform with EDC in their local arts centre, in front of friends and family.
"A turning point for me was when I attended a workshop delivered by a professional dance company," May said. "Coming into contact with the artists and understanding the process made my dreams real and accessible for me."
With the support of the public through EDC's fundraising campaign, EDC will provide workshops to over 500 young regional dancers across 17 communities in Australia and personally mentor over 100 of them, culminating in a once-in-a-lifetime performance onstage as part of the Carmen Sweet ensemble.
EDC is one of Australia's premier arts companies and contributes extensively to the evolution and future of contemporary dance in Australia. EDC is a registered charity and donations over $2 are tax deductible. All donations over $500 will be publicly acknowledged, with the approval of the donor.
To help EDC inspire dancers in regional Australia, visit expressionsdancecompany.org.au before June 30.