Eurotard creates the perfect holiday gift box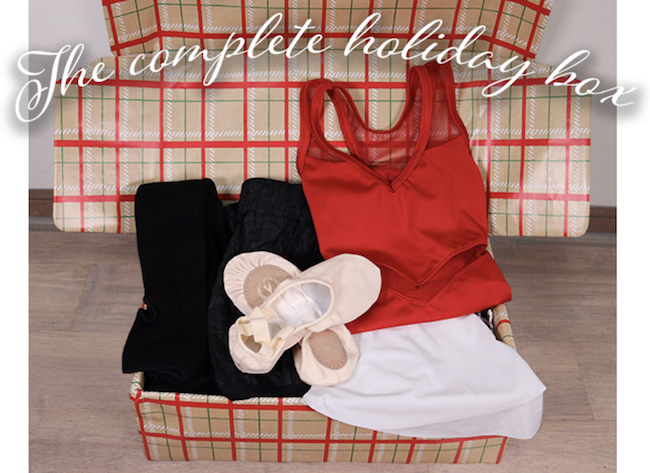 Looking for a last-minute holiday gift for your favorite dancer? Eurotard Dancewear has just the thing! A holiday gift box including five essential wardrobe pieces! The best news? All five pieces are available on www.Eurotard.com for a combined total of only $122.50!
The first piece is a gorgeous, eye-catching leotard combining all the features a dancer wants and needs into one: mesh cutouts, comfortable Nylon/Spandex and a flattering design. It's available in scarlet (shown here) and black, this leotard will be a go-to for years.
The second item in the holiday box is the new Assemblé split sole canvas ballet shoes. As soon as dancers try these on, they'll be in love, says Eurotard. "The soft interior feels like you're wearing a sock, the elastic arch casing accentuates your best arch and the multi-way stretch canvas moves with you. Try them on today at your local dance retailer!" urges Eurotard Marketing Assistant Mary Kathryn Scott.
Thirdly, there's the favorite ripstops — the perfect shorts for any class or style. The flattering athletic cut complements a dancer's movement while keeping their hips warm without bulky material. Available in burgundy and black, these are the perfect warmups that you might never want to take off.
For the dancer who wants to be trendy and smart, Eurotard's 48" long legwarmers are a great addition to this holiday gift box as they're made to keep dancers' legs cozy before and during warm-up — also helping to prevent injury. These legwarmers are made to not fall down or stretch out even after hours of dancing. They are form fitting to see the leg line and have stirrup heels to not slip, "making these legwarmers a necessity," says Scott.
Finally, Eurotard's holiday gift box suggestions include a classic ballet skirt, which comes in 11 color options. Scott explains, "We have perfected the pull-on mini ballet skirt made of a soft polyester/spandex that flows and stretches to complement your movement. The subtle high-lo design is a flirty look that accentuates a long leg line. This skirt will look great with any leotard!"
Head to www.Eurotard.com to make any last-minute holiday gift purchases!
---