Era Jouravlev bound for VDF 2018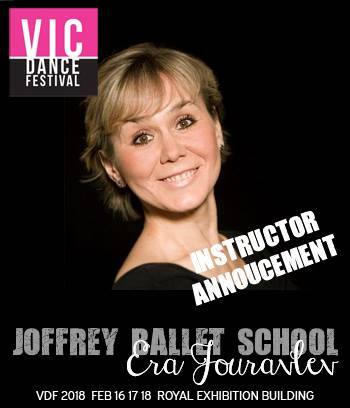 Era Jouravlev of the prestigious Joffrey Ballet School in New York City is coming to the 2018 Energetiks Victorian Dance Festival, courtesy of Dance Informa. Jouravlev will teach two ballet classes and will scout for young dancers at the festival, which will run February 16-18 at the Royal Exhibition Building in Melbourne.
Jouravlev will act as a representative of The Joffrey Ballet School to award three full tuition scholarships to its yearlong Trainee Program in NYC. Plus, she'll help the school bestow 12 Summer Intensive scholarships. What an opportunity for Australian dancers!
If you have ever dreamed of dancing in New York, then attending VDF and taking class from Jouravlev could be your big break!
The Trainee Program is meant for dancers aged 13 to 25. Trainees are in class or rehearsal Monday through Friday from 9 a.m. to 4:30 p.m. in NYC.
The Summer Intensive lineup is impressive and offers a variety of dance styles to choose from. There are ballet, musical theatre, hip-hop, tap, jazz, contemporary, character and world dance summer programs. Locations include NYC, Los Angeles, Miami, San Francisco, London (U.K.), Colorado, Georgia, Genoa (Italy), Kansas City, Dallas and Las Vegas.
Jouravlev, who studied at the famed Perm State Choreography Academy in Russia, was once a principal dancer with Perm State Opera and Ballet Theatre. She has toured internationally with the stars of the Kirov and Bolshoi Ballet, as well as with American Ballet Theatre Principal Nina Ananiashvili in Japan and South Korea. In 1995, Jouravlev joined the New Jersey Ballet as a principal. There she performed the works of George Balanchine, Agnes de Mille, Paul Taylor, Antony Tudor, Johan Renvall, Margo Sappington, Robert Weise and Robert North, among others. Jouravlev went on to teach for the New Jersey Ballet for 14 years.
It wasn't until 1997 that Jouravlev's dance journey led her to start teaching at The Joffrey Ballet School. Not too much later she was working as the Head of Classical Ballet Studies at the school under the direction of Robert Ray.
Overall, with an incredible career, over 30 years of teaching experience, and a fierce passion for shaping dancers into artists, Era Jouravlev is a teacher that Australian dancers don't want to miss at VDF 2018.
Register for the 2018 Energetiks Victorian Dance Festival at www.victoriandancefestival.com.
---