ED5INTERNATIONAL offers Diploma Course

ED5INTERNATIONAL, an arts training centre based in North Strathfield in Sydney, offers a program for performers to study full time with its Diploma in Performing Arts. Through the program, participants can expand the breadth of their skills, deepen their technique and build upon their performance qualities.
ED5INTERNATIONAL runs a fully accredited Diploma in Performing Arts course that gives a complete and fulfilling education in all disciplines of the performing arts – dance, vocals and acting. The course is Australia's only dedicated two-year full time Diploma in Performing Arts and it seeks to create true working professionals who are able to work in every arts field.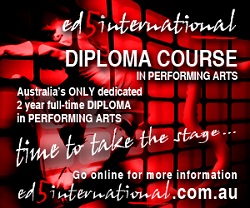 As part of the diploma, students will study the core subjects of ballet, jazz, tap, contemporary, singing, drama, hip-hop, musical theatre and acrobatics, as well as acting for TV/film, history of musical theatre, nutrition, anatomy, performance coaching, repertoire, pas de duex, Pilates, yoga, audition technique, image management and more.
Supplementing this high level of course content, ED5INTERNATIONAL gives students the opportunity to work with the most professional faculty who not only teach the core disciplines and impart their wealth of knowledge (both as performers and teachers), but also coach in discipline, professional attitude and punctuality.
Diploma teachers include: William A. Forsythe, Kim Traynor, Leslie Bell, Nathan Sheens, Caroline Kaspar, Dolce Fisher, Natasha Crane, Deb Whitelock, Danielle Cook, Zoey Lanser, Craig Haines, Ed Wightman, Saskia Smith, Danielle Barnes, Kathryn Hailey, Sheena Crouch, Scott Archer and Phillip Filo.
To request a prospectus or to acquire more information, visit www.ed5international.com.au. Audition details will be released soon for 2014 intake.