Don't miss this Dance Education Summit!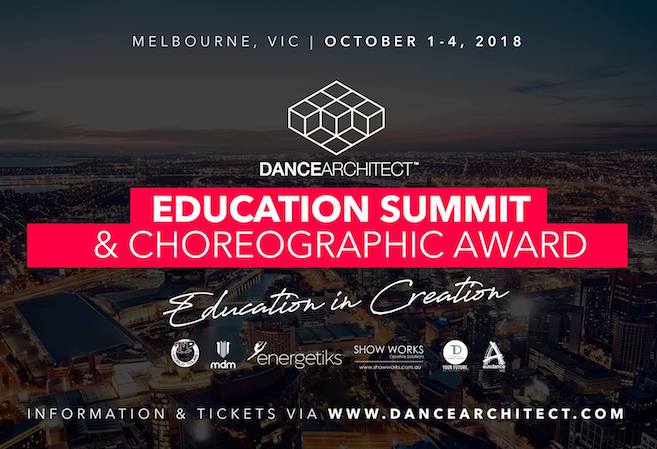 As announced in June, the Dance Architect Choreographic Award and Summit will bring together hundreds of innovative dance teachers, business owners, industry leaders, students and parents for a week of professional development, collaboration and celebration on October 1-4 at the Transit Dance Centre in Brunswick, Victoria.
Beginning with the annual Youth Choreographic Award (October 1-3) and concluding with the inaugural Dance Education Summit (October 3-4), Dance Architect aims to unite, educate and inspire the Australian dance community. It is the brainchild of dance entrepreneurs Paul Malek and Chris Curran, founders of renowned Australian dance institution, Transit Dance.
In addition to Malek and Curran, the list of speakers and instructors includes industry leaders and dance luminaries like Meryl Tankard, Kelley Abbey, Amy Hollingsworth, Daniel Jaber, Kim Adam, Karen Malek, Robbie Curtis, Freya List and more.
Paul Malek said, "Dance Architect Education Summit 2018 is an unbelievable opportunity to inspire you to take control of your creativity, to reinvent the wheel, reignite the spark or just expand greatly on your already mass of knowledge."
"For Teachers and Business Owners, the opportunity to meet, learn and discuss with this leading lineup of speakers will have your heart, mind and soul buzzing with creativity and motivation," he continued. "For our Parents and Students it is the greatest opportunity to be within this professional environment, grow and expand your knowledge as well as networking and making new friends and creative allies."
"DA Education Summit is focused on strengthening a strong and united community in dance creation and education," he concluded.
To register, head to www.dancearchitect.com. Don't miss this event!
---