DirtyFeet extends new opportunity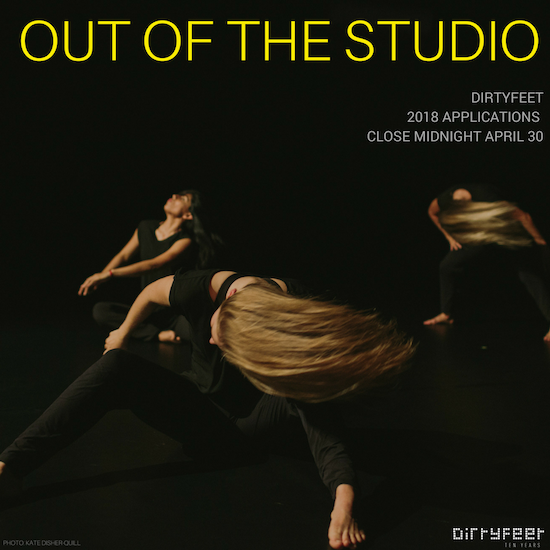 Sydney's DirtyFeet, a contemporary dance organisation celebrating its 10th year, has newly opened its major program Out of the Studio to artist applications for 2018. This is a special opportunity as this program has always been managed through an internal application process evolving from previous projects. But this year DirtyFeet is extending an open call out to all artists.
Out of the Studio is a chance for emerging choreographers to develop new ideas and a platform to present a new work to audiences in a theatre context.
Through the program, DirtyFeet provides three weeks of studio space at FORM Dance Projects in Parramatta and/or Shopfront Arts Co.Op in Carlton. It also provides an industry mentor, documentation, a producer, administrative support and marketing assistance to the choreographer as he/she prepares to present three performances, which will be scheduled between September 3 and 21.
Submitted projects should be solidly based in contemporary dance practices and can include collaborations with artists from other disciplines. Applying choreographers must be in their first five to seven years of their practice. Also, the artists involved should be NSW-based artists, or artists who have a demonstrated practice in NSW.
Go to www.dirtyfeet.com.au/out-of-the-studio for all the information and the application form.
If you have any questions about the program or the application process, contact Megan Exton at megan@dirtyfeet.com.au.
All applications are due at midnight on Monday, April 30, 2018. Note that there is only one round of submissions for Out of the Studio 2018.
---