'Dido & Aeneas' at Sydney Festival 2014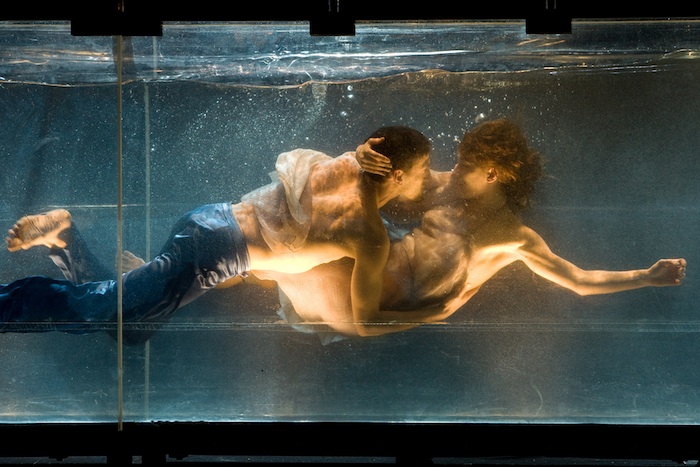 While it's now more than halfway through Sydney Festival 2014, it's still not too late to see Sasha Waltz and Guest's Dido & Aeneas, running now through January 21 at Sydney Lyric Theatre. With choreography by Sasha Waltz and music by Henry Purcell, this production has been called one of the "most extraordinary spectacles on the modern dance stage" (The Guardian).
Renowned for her boundless visual imagination, Berlin choreographer Sasha Waltz has come together with celebrated baroque orchestra Akademie für Alte Musik Berlin to present her first choreographic opera: a majestic reimagining of one of the world's great romantic tragedies, Dido & Aeneas.
Henry Purcell's 17th century masterwork revolves around the myth of a queen, a soldier and the illicit love that tore them apart. Waltz's version transports the audience into a wondrous underwater realm, where submerged dancers glide gracefully around a glass aquarium that fills the stage. From these watery depths, Waltz breathes new life into an enduring love story, carrying it to spectacular heights.
The oldest love story in English opera comes to Sydney from Germany for an Australian exclusive, bringing Dido & Aeneas to life with a cast of 60 dancers, singers and musicians. For more information or to book tickets, visit www.sydneyfestival.org.au.
This Sunday, January 19 at 2:30 p.m., interested fans can sit down with choreographer Sasha Waltz in a free public talk at Goethe-Institut Sydney, located at 90 Ocean St., Woollahra, NSW 2025. To learn more, go to www.goethe.de.
Photo: Dido & Aeneas. Photo by Bernd Uhlig.