Dean Walsh offers workshop in Ultimo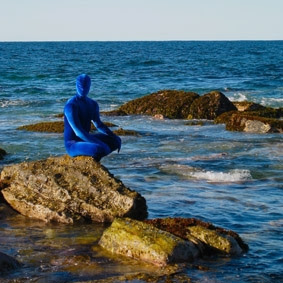 Award-winning Australian dance practitioner Dean Walsh will soon offer a full day professional-level dance workshop in a specific, zoomorphic aspect of his "PrimeOrderly" practice.
PrimeOrderly is a methodology Walsh devised that intersects marine environmental science, conservation and his dance, scuba and freediving practices.
Assisted by a two-year dance fellowship from the Australia Council for the Arts in 2011 and 2012, Walsh developed this interdisciplinary movement methodology. He has utilized it to present lecture-type demonstrations at arts and environmental events, including the 2014 World Parks Congress held in Sydney.
Suitable for advanced dancers and physical theatre artists or students with at least two years' experience, the workshop will take place at Readymade Works, Ultimo this Sunday, May 20 from 10 a.m. to 6 p.m.
For bookings, email workshops@dean-walsh.com. The workshop costs $100 full or $80 concession. If you are not a dancer but are keen to observe this workshop, a discounted price can be discussed to attend.
Learn more about Walsh at www.dean-walsh.com.
Photo by Natalie Ayton.
---