Dancers wanted for Royal Adelaide Show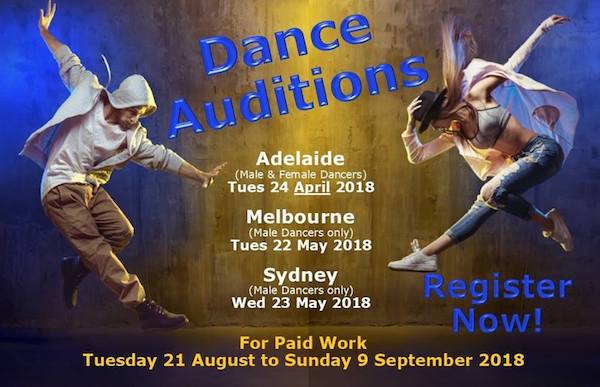 Dance auditions are being held for both male and female professional dancers to be part of an innovative production to be presented during the 2018 Royal Adelaide Show. The production will be a full entertainment experience incorporating music, dance, motion graphics, fun characters, aerial acts and special effects.
Dancers must be over the age of 18 with good technical training and a significant background in jazz. Previous acting experience and/or character work is beneficial but not essential.
The casting director is also interested in any experienced jazz dancers who may have other talents such as a site act, singing, circus or aerial skills.
In total, approximately 20 dancers are being sought for a 20-day contract of daytime rehearsals and performances in Adelaide. The contract will run from Tuesday, August 21 to Sunday, September 9, 2018. (Sunday, August 26 and half of Thursday, August 30 are scheduled days off, however dancers must be available for all 20 days in case this schedule changes.)
There will be 10 consecutive performance days – from Friday, August 31 to Sunday, September 9 – each with four performances of the 30-minute show scheduled roughly between 11 a.m. and 6:30 p.m.
A flat compensation is being offered for the entire contract period, plus superannuation and a financial subsidy for the provision of individual public liability insurance. The package includes airfare, accommodation, ground transport and living expenses for those dancers selected from interstate.
At the auditions, choreographer Rhys Bobridge (Series 1 of Network 10's So You Think You Can Dance Australia) will teach dancers a routine for assessment by the choreographer and producers of the show.
Auditions will be held as per the following:
ADELAIDE (for Male & Female Dancers)
Session A – 2 p.m. – Tuesday, April 24
Session B – 7:30 p.m. – Tuesday, April 24
at Aust Company of Performing Arts,
37 Walsh Street, Thebarton, SA
MELBOURNE (for Male Dancers only)
Session C – 2 p.m. – Tuesday, May 22
at Patrick Studios,
Level 2, 140 High Street, Windsor (adj. Prahran), VIC
SYDNEY (for Male Dancers only)
Session D – 2 p.m. – Wednesday, May 23
at Brent Street Studios
The Entertainment Quarter,
122 Lang Road, Moore Park, NSW
All auditions will last for two hours with the first half hour being registration and warm-up.
All dancers must pre-register by emailing their name, mobile number and selected audition "Session A", "B", "C" or "D" to auditions@shaneinternational.com as soon as possible and by no later than two days immediately preceding the audition. If possible, dancers should attach their current resume and a JPEG headshot to their pre-registration email.
If represented by an agency, then dancers should get them to email their pre-registration on their behalf. Further information is available by emailing your questions to enquiry@shaneinternational.com.
---