Dancehouse presents work by Myriam Gourfink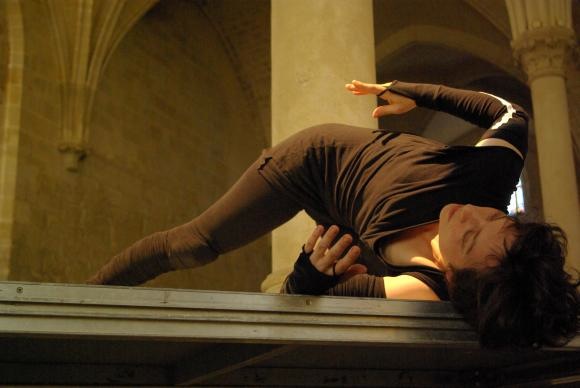 A spectacular dance work has been added to the Dancehouse 2013 program – Breathing Monster. Created by French dancer and choreographer Myriam Gourfink and Polish-French composer Kasper T. Toeplitz, it will be presented at 8 p.m. on June 28 and 29.
A contemporary dance work, Breathing Monster is synthesis of hypnotic sound and uncanny physical movement. In the work, a woman gently glides through a long, narrow, invisible maze creating a series of micro-movements in extreme slow motion. As her body propels forward with the stillness of time itself, it gathers incredible momentum, and her gestures become a gravity-defying feat. With prodigious precision, her bodily contortions alter the surrounding musical landscape, breathing new meaning into everything that viewers see, hear and feel.
Blending live music, motion-sensing technology and extreme physicality, Gourfink and Toeplitz design a suspenseful journey through the void, where a Breathing Monster emerges in a wonderfully original narrative about abstraction, time and space.
In partnership with Performance Space Sydney and Critical Path, and with the support of the Institut Francais and the French Embassy, Breathing Monster will showcase the qualities of Gourfink, a leading figure in choreographic research in France, as well as Toeplitz, who is a composer known for making use of the computer both as a real instrument and as a tool for reflecting on music differently.
Breathing Monster tickets are now on sale. Tickets are $25 for general admission, $20 for concession and $15 for Dancehouse members. For more information or to book tickets, click here. Dancehouse's Sylvia Staehli Theatre is located at 150 Princes Street, North Carlton, VIC.
Photo: Myriam Gourfink in Breathing Monster. Photo courtesy of Dancehouse.