Dance Spot student wins $7,000 scholarship at McDonalds Sydney Eisteddfod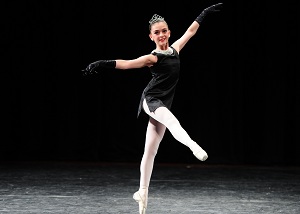 After a gruelling test spread over the space of three days, thirteen-year-old Montana Rubin has emerged as the 2011 winner of the $7,000 Robert & Elizabeth Albert Junior Classical Ballet Scholarship. This event has been a highlight of the McDonald's Sydney Eisteddfod program since 1994 and most previous recipients have gone on to enjoy successful careers with leading companies across the world or are studying at The Australian Ballet School.
Montana, who studies with Peta Frith and Mark Riley at the Dance Spot in Randwick, bowed into Sydney Eisteddfod at the age of seven in 2005 and has been competing annually ever since. She has never emerged without a prize and over the years has amassed an impressive collection of medals, many of them gold.
In her most recent triumph, Montana outdanced sixty-three rivals from all over Australia through an elimination heat, master class and interview with the adjudication panel. She took victory dancing a classical variation, plus a show-stopping demi character solo in a black tunic, complete with tiara, long gloves, necklace and sunglasses to 'Moon River' from Breakfast at Tiffany's.
Harry Churches, who studies with Christine Keith, finished second and collected the $1,500 encouragement award, while at the discretion of Leigh Rowles, Jessica Brown (Prudence Bowen, Qld) and Taylor Venter (Samantha Leeman, WA) were offered one-year scholarships, covering tuition and academic costs, from The Australian Ballet School.