Dance online and on-screen this week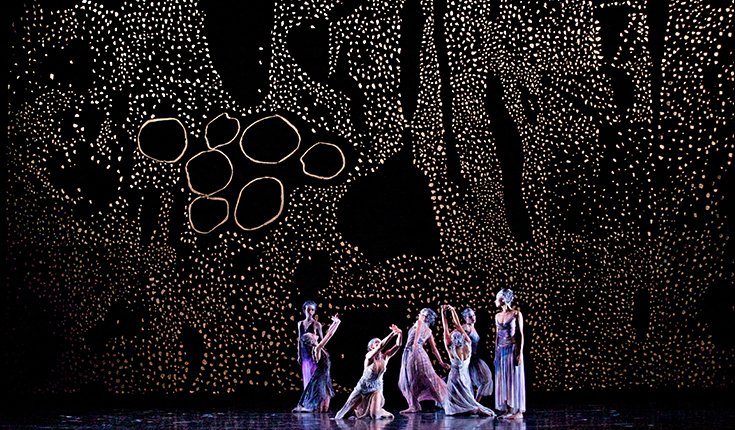 Sometimes, it's only when we're forced apart that we remember the power of the arts to bring people together. The exchange of ideas, dance, experiences between one another is powerful! Don't miss these moments of exchange this week, even when they're confined to the laptop screen.
Watch West Australian Ballet's Premiere digital season, Genesis.
Genesis is unique and you can watch it now! It's not ballet as you would expect. Meaning 'the spark of new creation', it's where dancer's ideas and personalities burst into life. It's an eclectic experimental season of contemporary ballet. It's raw. It's bare. It's passionate. Watch it here: https://waballet.com.au/genesis-online/
Bollywood with Prafulla
Dance Central Sydney has some fun classes. Perhaps you'd like to try Bollywood this week on Friday 5 June at 6.00pm. This class is upbeat so you will work up a sweat! All levels welcome from absolute beginners to advanced. 1 hour is $12.00 and you can book here https://dancecentralsydney.weteachme.com/classes/1035934-online-bollywood
Learn Broadway Choreography
This is fun for the whole family! Learn Broadway choreography with Broadway artists! There are 3 to choose from and they are free to enjoy on you tube!
1) Learn choreography from "Arabian Nights", taught by the Broadway cast.
2) Learn choreography from the award-winning Broadway musical, THE LION KING.
3) Learn the Broadway choreography of 'Seize the Day' from the hit musical NEWSIES, taught by choreographer Christopher Gattelli.
Sydney Dance Company Studios Virtual Ballet
For the more experienced Ballet dancer, this 9.30am Monday morning class will challenge your endurance, musicality and coordination with longer and more complicated sequences at the 'barre' and throughout centre practice. Ballet Intermediate will give you an excellent opportunity to stretch and strengthen while maintaining and improving your ballet technique. Unlimited membership is $28 inc GST per week. You can book here: Book Class
Watch Australian Dance Theatre
On Friday 12 June, ADT broadcasts Devolution. Garry Stewart collaborated with Canadian roboticist Louis-Philippe Demers, UK video artist Gina Czarnecki and London-based costume designer Georg Meyer-Wiel to create a startling and utterly unique world. You can sign up to watch here https://adt.org.au/adapt/devolution/
Apply for Chunky Moves Solitude 1
Chunky Move has redesigned their 2020 program to facilitate artistic exploration within this newly complex social and spatial framework and provide urgent, paid creative opportunities for independent artists. Solitude 1 is a new program initiative responding to these changed circumstances. Solitude 1 will provide funded creative research opportunities for 10 artists. The research undertaken as part of Solitude 1 will have the potential to be further realised as part of a new Chunky Move work, Secret Gardens. Featuring numerous small works, Secret Gardens is a major collaborative project that will be overseen by Chunky Move's Artistic Director, Antony Hamilton, and developed collaboratively with the commissioned artists over the coming years. Please see here for more information and to apply.
Watch Paquita by The Australian Ballet
The Australian Ballet's Paquita is a short work which features excerpts from Marius Petipa's original two-act ballet. A quintessential ballet with a distinct Spanish flavour, Paquita is a glittering showcase of classical technique, dazzling tutus, delicate footwork and non-stop virtuosic turns. Paquita was filmed in 2013 at the Joan Sutherland Theatre, Sydney Opera House with the Australian Opera and Ballet Orchestra. Click to access the original production program and the cast sheet, which will tell you who dances which role. This free performance expires 5pm (AEST) Thursday 11 June 2020. Visit this link to watch https://australianballet.com.au/tv/paquita-by-the-australian-ballet
Time for a Lyrical Dance class?
Ben Cure is a Melbourne based dance artist and has a lovely Lyrical class online through The Space. The class is on Sundays at 11.30am for Beginners and 12.45am for the higher levels. Once registered you can join as many of their classes as you you would like (within your purchased month) for $110. You can register here https://www.thespace.com.au/component/eventbooking/?task=view_event&event_id=659
Podcast for children all about Ballet
Rebel Girls launched the debut of a new children's podcast episode where San Francisco Ballet Principal Dancer Yuan Yuan Tan details the life story of celebrated Cuban prima ballerina and choreographer, Alicia Alonso. A tremendous educational resource for children with over 4 million lifetime downloads, over 12.5k subscribers and an average of 170k downloads per month, this award-winning podcast introduces young girls to real-life women while inspiring them to explore the breadth of interests and career choices available to them. Listen to the episode on Good Night Stories for Rebel Girls here https://www.rebelgirls.com/pages/podcast
Watch Warumuk- In The Dark Night (2012)
In celebration of The Australian Ballet's 50th anniversary, Stephen Page led a collaboration between Bangarra and The Australian Ballet with the creation of a new work Warumuk – in the dark night as part of the Ballet's Infinity program. It's streaming for free on ABC IVIEW unit July 30th. Visit here to watch https://iview.abc.net.au/show/warumuk-in-the-dark-night
Image courtesy of Bangarra