Cruise auditions seeking dancers, singers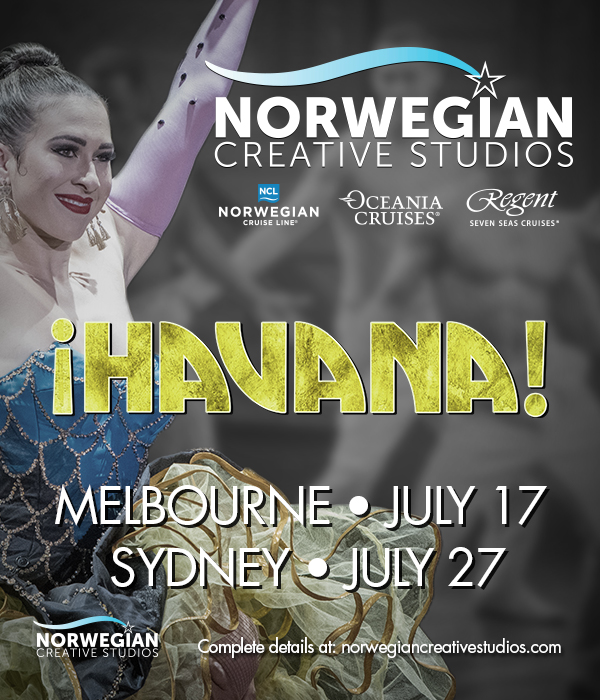 Norwegian Creative Studios, the production company of Norwegian Cruise Line, Oceania Cruises and Regent Seven Seas Cruises, is seeking dancers and singers for all of its shows at sea. Casting agents will be coming to Melbourne, Brisbane and Sydney this month to audition performers aged 18 or older.
Firstly, Norwegian Creative Studios is coming to Melbourne on Tuesday, July 17 to audition dancers for its newest production, HAVANA. With choreography by Tony Award-winning director and choreographer Warren Carlyle, and a set and vivid costumes by famed Cuban-American design duo Ruben and Isabel Toledo, HAVANA is a celebration of Cuba's music and culture, journeying back in time to its 1950's heyday. These auditions start with female dancer registration at 9:30 a.m. and male dancers sign in later at 1:30 p.m.
Set at Dance World Studios in South Melbourne, these HAVANA auditions will require dancers with strong technique. Auditionees must be able to pick up choreography fast and should have strong partnering skills. Dancers who sing should bring their music and be prepared to stay and perform a song.
After Melbourne, HAVANA auditions come to The Opera Centre in Sydney (Surry Hills) on Friday, July 27. Sign-in times are the same as Melbourne – females at 9:30 a.m. and males at 1:30 p.m. Get all the details at www.norwegiancreativestudios.com.
In between these auditions, Brisbane gets its own visit from Norwegian Creative Studios' officials. On Friday, July 20, general auditions will be held for dancers and vocalists for all productions. Set at Mad Dance House on 2/43 Adelaide Street, dance auditions will seek exceptional, versatile artists with strong technique and experience in multiple dance styles.
Females (5'2" – 5'10") should have a lean/fit silhouette. Males (5'9" – 6'4") should have a strong, muscular physique, and be able to perform shirtless on stage when required. All dancers must have outstanding performance quality and stage presence. Gymnastics, aerial training, tumbling and partnering skills are a plus!
Those auditioning should be prepared to learn multiple dance combinations. They should bring a current headshot and resume. Singers/dancers should prepare one vocal selection from the vocalist breakdown on the website, as well as one vocal selection that showcases them best.
Again, for more information on upcoming auditions, head to www.norwegiancreativestudios.com.
---