'Creating the Character' exhibit in Adelaide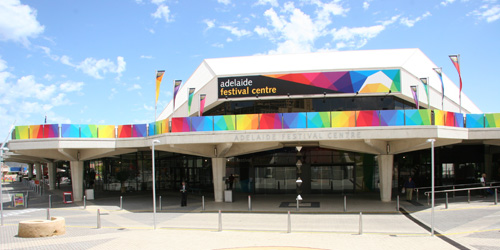 Costume designers visually recreate the internal side of the character we see on stage. The new Creating the Character exhibition at Adelaide Festival Centre embraces the behind-the-scenes conception of characters and shows how a designer works with the director, the actors and the text to lift two-dimensional characters from the page to the stage.
This exhibition, curated by the Performing Arts Collection, showcases the work of Australian stage designers, such as Sue Russell, Tess Schofield, Dean Hills, Paul Morisset, Bronwyn Jones, Tony Graham and Luciana Arrighi, who won an Oscar for her designs for Howard's End.
On display in the Festival Theatre Foyer from 22 February until May, the exhibition will feature costumes, costume designs, masks, props and photographs from memorable State Theatre Company productions, such as Revenger's Tragedy, The Comedy of Errors, Scapin, Night on Bald Mountain, Ham Funeral and the Jimmy Zoole Presents production of Amadeus.
Jo Peoples, the Performing Arts Collection Exhibition Coordinator, said, "Stage designers fill a number of roles. They are historians, storytellers and social commentators. Their work is crucial in the audience's understanding of who the character is, and why they are there. It's storytelling in another way. The work on display covers Shakespearean comedy (after Magritte), Jacobean Tragedy, Molière, Australian drama, opera and a mixed bag with Amadeus! Come and celebrate their work!"
Audiences can now enjoy this marvellous, imaginative exhibition from some of Australia's best theatre designers at Adelaide Festival Centre through May. For more information, visit adelaidefestivalcentre.com.au.
Photo: The front entrance of the Adelaide Festival Centre. Photo courtesy of the Adelaide Festival Centre.