Circa to premiere 'S' in Melbourne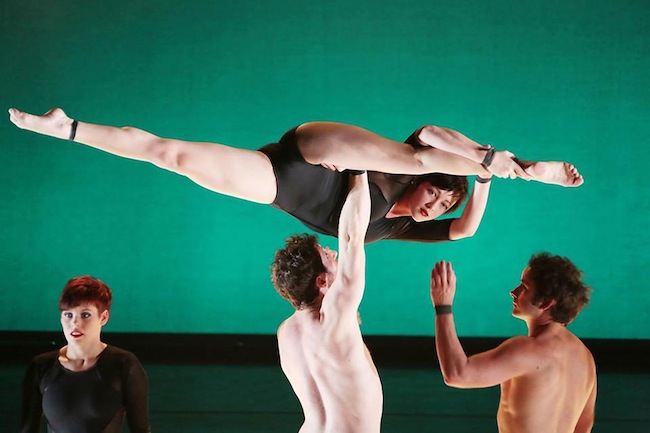 Circa's Helpmann Award-winning ensemble creation S is a full-throttle ride to the limits of the human body and will tour metropolitan Melbourne on May 13–29, visiting Frankston Arts Centre, Gasworks Arts Park and Darebin Arts and Entertainment Centre.
Based on the 19th letter of the English Alphabet, S fuses group acrobatics with intimate emotions. Artistic Director Yaron Lifschitz was inspired to create an abstract work of power and joy – inspired by the curves, symmetries and plurality that are all attributes of this one letter.
On a floating white diamond stage, seven extraordinary acrobats bend, fly, contort and hang – sometimes alone, and others in a tangle of bodies. Dramatic acrobatics, athletic aerial acts and powerful solos are all infused with raw immediacy and beauty.
S features the world-renowned Circa ensemble with the intoxicating music of the Kronos Quartet to create a symphony of bodies.
"Darebin Arts is thrilled to present this brave and inventive work by Circa, which I have no doubt will leave our community and audiences wanting more," said Vanessa Pigrum, Manager of Creative Culture. "Having just won the Sidney Myer Performing Arts Award, it's an honour to have such an internationally acclaimed troupe performing on our doorstep."
Based in Brisbane, Circa presents a bold new vision of contemporary circus – a blending of bodies, light, sound and skills, a place where acrobatics and movement meld into a seamless whole.
With work that has toured to 26 countries across six continents since 2006, the company is relevant across cultures, audiences and venues. It's the appeal of something that is skillful but hasn't forgotten that to be human is, in the first instance, to feel. Where other companies tend to add elements (story and character), Circa's work is a stripped back circus of the heart. It finds new emotional landscapes inside what is generally considered to be a spectacle.
"Sometimes sweet and sensuous, sometimes dark or wild, S brilliantly mixes dance and circus… this acrobatic ballet of great beauty celebrates the human body in all its glory," wrote Canoe of Montreal.
For tickets and more information, visit https://circa.org.au.
Photo courtesy of Circa.