Chunky Move presents 'It Cannot Be Stopped'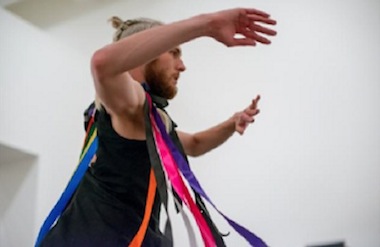 Chunky Move will present the world premiere of It Cannot Be Stopped, a new work bringing together three of Australia's rising talents, Atlanta Eke, Benjamin Hancock and Paea Leach, on June 19-29 at Chunky Move Studios. It Cannot Be Stopped has been commissioned by Chunky Move as part of Next Move – a program committed to nurturing the next generation of Australia's leading dance makers.
Showcasing three works across three spaces, each choreographer takes their philosophical, personal and conceptual approaches to performance as their creative starting point. Atlanta Eke's Fountain is a philosophical exploration of the mortal, aging body, the passing of time and its relationship to memory; while Benjamin Hancock presents his beguiling Princess, an intensely personal work examining the role of dynasts and the building of empires.
Rounding out the evening is Paea Leach's the lines of birds, a choreographic investigation for three dancers, navigating the movement across liminal space, pathways and desire lines. the lines of birds is scored live by sound musicians Madeleine Flynn and Tim Humphrey, who integrate, respond to and magnify ambient sound, crafting a unique score for each performance.
It Cannot Be Stopped finds its curatorial thread through each individual's distinct approach to creating work. From the politically grounded performance art of Atlanta Eke, to the technically rigorous style of Benjamin Hancock, It Cannot Be Stopped showcases three divergent works from three exciting performance makers on the rise.
On the company's decision to commission the three artists together, a first for the Next Move program, Chunky Move Artistic Director Anouk van Dijk said, "I am very happy to be able to offer this commissioning opportunity to these special artists. What I find very compelling in these three makers is that they are all exceptional performers in their own right and work with passion and rigour on developing their own unique styles. They share a fascination not only for the human body, but how it's working resonates with individual audience members."
Atlanta Eke is an Australian dancer, artist and choreographer working internationally. Her solo Dance Monster was presented at the 2012 Next Wave Festival, 2013 Dance Massive Festival Melbourne, MONA FOMA, MDT Stockholm 2013 and more.

Benjamin Hancock is a Melbourne-based dancer. He performed in Chunky Move's Keep Everything in 2012 and Assembly in 2011. Hancock is a much sought-after performer (most recently performing in Neil Armfield's The Ring Cycle with Opera Australia) and a prolific solo performer, presenting works for Lucy Guerin Inc's Pieces for Small Places, MONA FOMA and Dark Mofo.
Paea Leach is a dancer, writer, performer and teacher based in Melbourne. She has worked with prestigious companies in Australia and overseas, including Chunky Move, Australian Dance Theatre, PVC (Germany) and Eastman (Belgium).
It Cannot Be Stopped opens June 19 for a limited run of ten shows at the Chunky Move Studios in Melbourne. For bookings, head to chunkymove.com or call 03 9645 5188.
Photo courtesy of Chunky Move.