Brent Street Shines on Young Talent Time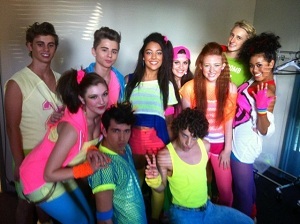 Sydney's Brent Street Academy students recently appeared on Young Talent Time, dancing up a storm in colourful outfits to celebrate an 80's theme. Last week Brent Street students also took part in a number performed by Project Dance which won its section and will appear in the semifinals in coming weeks.
On Sunday March 25 Michael Dameski (pictured here back row, 2nd boy from left) will perform a solo routine for the judges. Michael is well known to Australian audiences, having played Billy in the stage musical Billy Elliot. After his success in the show he then moved to New York to play the role on Broadway. Michael returned to Sydney in 2011 where he rejoined his classmates at the Brent Street Academy and continues to shine.
"Brent Street is delighted with the return of Young Talent Time, not just for the chance to see our students perform, but for the live performance opportunities it offers for all young people, and for the experience they gain from this type of exposure", says Brent Street General Manager Suzy Yates.