Boys DANCE 19 Scholarship Winners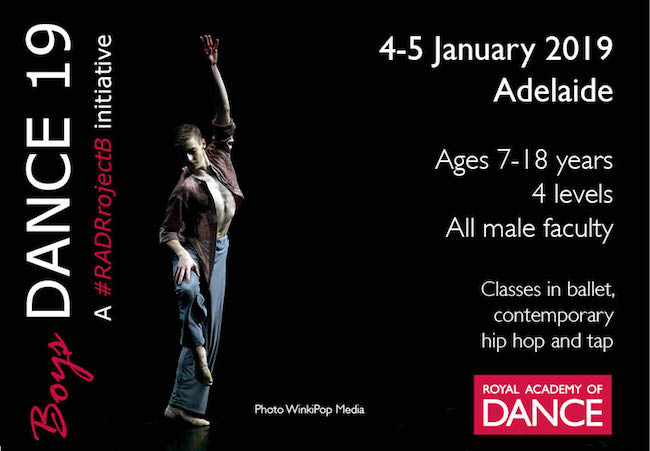 After receiving a significant amount of entries, Dance Informa is pleased to announce the three winners of the Boys DANCE 19 Scholarship Contest, presented in partnership with the Royal Academy of Dance (RAD) Australia. The winners are 11-year-old Conor Weir from Windsor Gardens, SA; 11-year-old Anthony Di Scala from Edensor Park, NSW; and 7-year-old Avery Brokamp from Aldinga Beach, SA.
Each of these winners will be able to attend the Boys DANCE Summer School for free on January 4 and 5, 2019, in Adelaide! Learn more about this boys-only summer workshop at www.rad.org.au/events/boys-dance-19.
In his entry, winner Conor Weir shared, "I looove to dance… Dancing makes me feel energised and helps me express myself in a way that I don't get to do at school."
Weir said he would like to work as an actor or dancer in the future. Right now, he's one of only two boys in his dance class so he's looking forward to the opportunity to be in a boys-only workshop.
The youngest winner, Avery Brokamp, started dancing classical ballet and jazz at the end of last year and took part in his first ACB Exam in May, for which he received a "Highly Commended" according to his mother Pamela Brokamp. He's currently the only boy attending the classes at his dance school in Victor Harbor so like Weir, he looks forward to dancing alongside more male peers.
When asked what keeps him dancing, Brokamp said he just enjoys it and that he "cannot imagine" not dancing. In term 3 he started acro and technique classes and for 2019 he's hoping to try out tap and hip-hop.
Winner Anthony Di Scala is excited to take his dancing to the next level. This year he was named "Dancer of the Year" out of 700 students at his school. He also received a Distinction in his RAD Ballet 4, 3 and 2 grade exams and received Honours Plus in both his jazz and tap ADA exams and Honours last year.
"Dancing encourages me to be myself," Di Scala shared. "While dancing I feel like I can let all my troubles and worries go and just be me and do what I love. To me dancing is more than just a place I go to, I can truly say for me being around my friends dancing has created a second family for me. I love being able to share my passion of dancing with all around me."
Di Scala believes Boys DANCE 19 will be an "invaluable life experience" that he'll never forget.
For more information on RAD Australia's Project B initiative, of which this workshop is a part, head to www.rad.org.au/learn-to-dance/project-b/about-project-b.
---