Bolshoi Ballet brings 'Jewels' to cinemas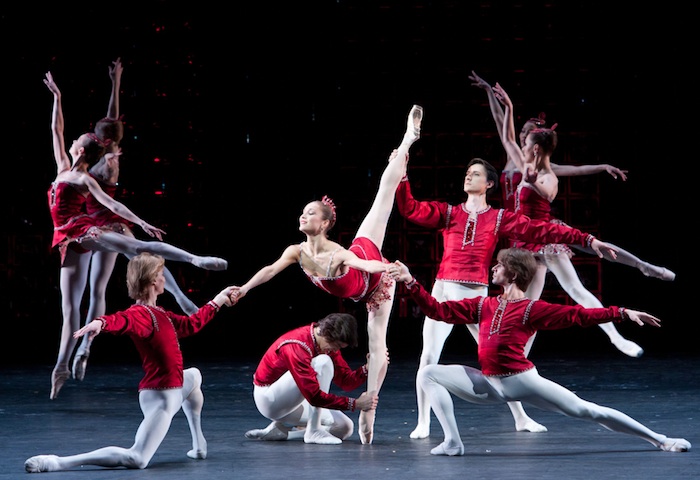 The 2014 Bolshoi Ballet in Cinema Season continues in cinemas across Australia for a strictly limited season from Saturday, February 15 with a company world premiere of choreographer George Balanchine's Jewels.
Choreographed by Balanchine in New York in 1967, this ballet with precious stones and jewel-like costumes is composed of three parts – Emeralds, Rubies and Diamonds. It celebrates the cities and dance schools that forged Balanchine's style.
With Jewels in cinemas for the first time, audiences across the world will be able to enjoy this ballet rarely seen on stage outside the United States and appreciate this unique ballet inspired by the famous jewellers' window displays on New York's Fifth Avenue.
The music for Emeralds was composed by Gabriel Fauré while the music for Rubies was created by Igor Stravinsky and the music for Diamonds was written by Piotr Tchaikovsky.
The leading couples for Emeralds are: Ivan Alexeyev and Anastasia Stashkevich, and Vladislav Lantratov and Anna Tikhomirova. The leading couple for Rubies is Ekaterina Krysanova and Vyacheslav Lopatin, and for Diamonds, Semyon Chudin and Olga Smirnova.
For more information on the production or the screenings, visit www.sharmillfilms.com.au. There are participating cinemas across Australia, from Cinema Nova in Victoria to Avoca Beach Picture Theatre in New South Wales to Dendy Canberra in Australian Capital Territory to Palace Centro in Queensland to Event Cinemas Marion in South Australia to Luna Windsor Cinemas Nedlands in West Australia to MONA (Museum of Old & New Art) in Tasmania.
Photo: Bolshoi Ballet in George Balanchine's Jewels. Photo courtesy of Sharmill Films.