'Birds with Skymirrors' at Carriageworks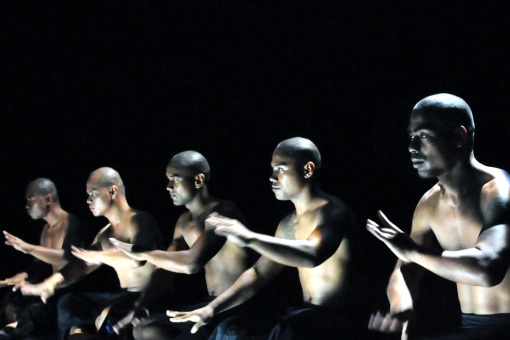 Auckland dance company Mau will unveil the Australian premiere of its internationally acclaimed Birds with Skymirrors at Carriageworks on 1-4 May. Globally-acclaimed as one of New Zealand's greatest living theatre artists, choreographer Lemi Ponifasio is also a Samoan High Chief and a self-confessed human activist. His epic productions have provoked controversy and attention across the globe. Hailed by the French newspaper Le Figaro as an artist who will be remembered as one of the greats alongside the legendary Pina Bausch and Merce Cunningham, Ponifasio's style is a distinctive language of stage imagery: poetic, powerful, hypnotic and political.
Birds with Sky Mirrors is a spectacular work comprising ten dancers in an exploration of the human relationship with our planet at a time of global warming. It was inspired by Ponifasio's experience on an isolated Pacific Island where he witnessed migrating birds carrying strips of deadly black magnetic tape in their mouths, which appeared like liquid mirrors reflecting the sky. Many of the 10 performers in the production are from the Pacific Islands, where the effects of climate change are very real with noticeably rising sea levels. Ponifasio felt compelled to create a work that reflects this reality.
Ponifasio said, "There have been many scientific arguments, summits and predictions. Radical climate change is not an apocalypse about to happen. It is already here. That image of birds with deadly video tape in their mouths was both a vision of beauty and the spirit of death. Are they the souls of ancestors in final migration? I thought about the end of time. I thought about the Book of Revelations. I thought of the Birth of Venus by Botticelli. I thought about the polluted ocean and poison river that we leave for our children. Dying rivers and dying species is our dying humanity. I thought about what could be the last dance on Earth?"
The company won critical praise at the 2010 Sydney Festival with Tempest, which featured the Maori activist Tame Iti and responded to the post 9/11 world.
Birds With Skymirrors had its world premiere on 8th July 2010 at Theater der Welt. The work has since been presented in Spain, France, Belgium, Finland, Sweden, Mexico, the UK and Netherlands. This performance at Carriageworks is the Australian premiere of the work and runs 1-4 May. For more information, visit carriageworks.com.au.
Photo: New Zealand-based dance company Mau performing in Lemi Ponifasio's Birds with Skymirrors. Photo courtesy of Carriageworks.