Batsheva Dance Company come to Adelaide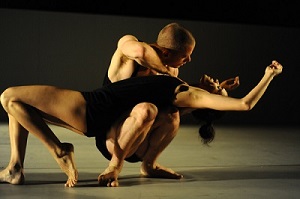 Batsheva Dance Company made their Australian debut at the 1996 Adelaide Festival; in 2014 they make their long awaited Festival return with Sadeh21.
Sadeh21 – a choreographic voyage with cinematic character – is an epic-dance expedition and voyage of the body by world renowned Israeli choreographer Ohad Naharin. The work is emotional, music paralyzing and captivating, an explosion in slow motion: radiant, dangerous and exciting.
The defiantly abstract and intensely emotional Sadeh21 juxtaposes explosive, frenetic bursts of energy with graceful, tender, lyrical passages in configurations of solo performances and duets to ensemble formations: as precise as any chorus line. Comprising of a series of movement studies, each new sadeh (Hebrew for 'field of study') is announced in ascending order by projected titles.
Naharin has been hailed as one of the world's preeminent contemporary choreographers. As Artistic Director of Batsheva Dance Company since 1990, he has guided the company with an adventurous artistic vision and reinvigorated its repertory with his captivating choreography. Naharin is famous for creating the movement language known as Gaga which results in relaxed and easy physical fluidity, no matter how complex the movement pattern.
With 250 annual performances in Israel and around the world, the company is considered Israel's leading cultural ambassador.
The piece is dedicated to Noa Eshkol.
Touring support for 2014 is provided in part by the Harkness Foundation for Dance.

Sadeh21
Festival Theatre, King William Road
Wed 5 Mar – Thu 6 Mar 8pm
Fri 7 Mar – Sat 8 Mar 8.30pm
www.adelaidefestival.com.au