Australia's rising ballet stars revealed in 2019 Telstra Ballet Dancer Awards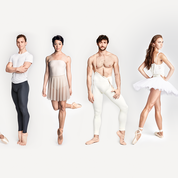 The Australian Ballet and Telstra are delighted to announce that six talented young dancers have been selected as nominees for the prestigious and coveted Telstra Ballet Dancer Awards 2019.
The six dancers nominated for the award this year include: Corps de Ballet Dancer Isobelle Dashwood; Soloist Jill Ogai; Senior Artist Cristiano Martino; Senior Artist Marcus Morelli; Soloist Sharni Spencer; and Corps de Ballet Dancer Yichuan Wang.
The Telstra Ballet Dancer Awards comprise the Telstra Rising Star award which will see a $20,000 prize awarded to the winner. The nominees will also be in contention for the Telstra People's Choice Award. The winner will receive a $5,000 prize and is decided by a public vote.
Now in its 17th year, the Telstra Ballet Dancer Award is one of most prestigious ballet prizes in the country. It has been a special career highlight for some of ballet's brightest stars. As many as seven former winners who have received the award continued on to become principal artists of The Australian Ballet.
Genelle Sharples, General Manager of Media and Sponsorships for Telstra said: "Our partnership with The Australian Ballet continues to nurture Australia's brilliant ballet talent and the Telstra Ballet Dancer Awards are one of the greatest success stories of our partnership. The Awards allow Telstra to support some of Australia's brightest young stars with new opportunities and career experiences, to give them their greatest chance of success."
David McAllister, Artistic Director of The Australian Ballet also commended the calibre of this year's dancers, "Year on year we continue to see some amazing talent rise through the ranks of The Australian Ballet and this year's six nominees are a fantastic representation of the dedication and commitment that The Australian Ballet embodies. Being nominated for the Telstra Ballet Dancer Awards is such an honour for each artist, it really gives these hard-working and inspiring dancers such well-deserved recognition. The winner announcement is always one of the highlights of our year, but always a tough process, as they are all deserving."
The winner of the Telstra Ballet Dancer Awards will be chosen by a panel of judges from Telstra and The Australian Ballet and announced at the Opening Night performance of The Nutcracker at Sydney Opera House on Saturday, 30 November 2019.
The six finalists are featured in a series of videos, which encourage the public to vote for their favourite dancer from Australia's most brilliant ballet talent at www.telstra.com/ballet . Voting closes on 17 November 2019.
For further information visit www.telstra.com/ballet
Image courtesy of The Australian Ballet
---