Ausdance NSW offers Bridge Dance Intensive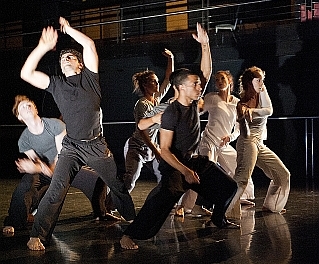 Bridge Dance Intensive, presented by Ausdance NSW Dec. 10-14, seeks to provide development, performance and promotional opportunities for tertiary dance graduates. The program, which is still open for registration, is for students from Australia and New Zealand graduating from tertiary dance courses in 2012, although students that have graduated since 2010 are also welcome.
Bridge Dance Intensive provides tools to guide early career dance artists into the professional dance sector over the course of just five days. The program includes intensive workshops with leading choreographers, industry sessions covering project development, career management, and support, daily technique class by leading artists from around Australia, and an opportunity to present work to peers and industry professionals.
The artists teaching at Bridge Dance Intensive include: Shaun Parker (Shaun Parker and Company), Anouk Van Dijk (Artisitc Director of Chunky Move), Vicki Van Hout (Independent Artist, Malthouse), Sue Healey (Independent Artist, Dance film maker), Dean Walsh (Australia Council Fellow), Craig Bary (Independent Artist, IOU Dance Solo Series), Joshua Thomson (Independent Artist), Kristina Chan (Independent Artist, Kingdom Mourning), Carlee Mellow (Independent Artist) and Anton (Independent Artist, Supermodern 2012.)
Daily technique classes by independent artists, offer a range of styles and an opportunity to become familiar with the practice of established and emerging choreographers. Choreographic workshops provide an opportunity to test ideas and learn new repertoire. Plus, sessions will be tailored to the professional development of the participants and include countertechnique with Anouk van Dijk, partnering with Craig Bary, improvisation with Shaun Parker, prime orderly modalities with Dean Walsh, and Dance Film creation with Sue Healey.
Participants may also choose to present their own choreography in a showing, open to their peers and a select group of industry professionals. Works can be up to 10 minutes in length.
Industry sessions will teach attendees how to jumpstart their career, how to take responsibility for their journey and how to get back up from the pitfalls of being turned down.
Bridge Dance Intensive is based on the Dance Compass Career Transition Program, initiated in 2008 and developed by the Dance Compass team, Vanessa Chalker, Shane Carroll, Madeleine Martin and Catherine Wyburn. Ausdance NSW has been a partner of the Dance Compass program since its inception.
Dancers interested in Dance Bridge Intensive should complete registration and submit payment through Ausdance NSW's website at www.ausdancensw.com.au/BridgeDanceIntensive.
Photo: Dance Compass 2011. Photo by Emily Sandrussi.