Aus Ballet Promotes 3 to Principal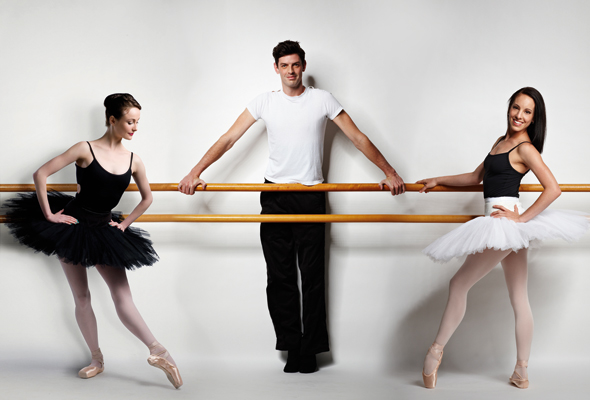 Andrew Killian, Amber Scott and Leanne Stojmenov step up

Audiences at the opening night of British Liaisons in Sydney experienced a triple treat last night. It was revealed that a trio of dancers from The Australian Ballet had been promoted to the most senior rank of principal artist. Artistic Director David McAllister made the surprise announcement onstage in front of a packed Sydney Opera House. Senior Artists Andrew Killian (31, from Melbourne), Amber Scott (28, from Brisbane) and Leanne Stojmenov (30, from Perth) were completely unaware of their impending promotions until the good news was announced. The dancers were surrounded by colleagues as their families watched from the audience.

McAllister said the dancers would remember this night forever. "Being promoted to principal artist is something most dancers dream about, and it's been a joy to see how Andrew, Amber and Leanne have grown into beautiful and assured artists during their time with the company," said McAllister. "Their work is incredibly inspiring and they join an elite group of dancers whose collective and individual talents will carry us strongly into our 50th year in 2012."

The announcement comes after three other dancers – Daniel Gaudiello, Kevin Jackson and Lana Jones – were promoted to principal artists in November 2010. Andrew, Amber and Leanne's promotions come into effect immediately.

Audiences keen to catch a glimpse of the newest principal artists can do so throughout the remainder of the British Liaisons, which runs in Sydney season until May 21.

Andrew is a dynamic and versatile dancer. In high demand by choreographers, he's been cast in the majority of new works created in his time with the company. He is equally at home in the narrative story ballets with his dramatic portrayal of Lescault in 2008's Manon, followed by the villainous Baron von Ochs in 2010's The Silver Rose, demonstrating his impressive range.

Since winning the Telstra Ballet Dancer Award and People's Choice Award double at just 21 years of age, Amber has matured into one of the company's most admired ballerinas. Her heartbreaking interpretation of Odette in Graeme Murphy'sSwan Lake in 2004 showed that she was a dancer of great substance. The perfect combination of outward delicacy, combined with an inner emotional strength, has made her an audience favourite.

Leanne is a role model for all dancers, focused on perfecting every detail of her performance – a trait that translates into onstage magic. An innate intelligence and determination shines through in her memorable roles, such as the flamboyant Kitri in 2007's Don Quixote and the playful Swanilda in last year's Coppélia.

As the dancers celebrate this momentous occasion, The Australian Ballet prepares for a sensational second half of the year. With the perennially popular production of The Merry Widow next on the calendar and a world premiere of Graeme Murphy's Romeo & Juliet still to be unveiled, audiences can look forward to seeing these new principal artists in an array of exciting roles.