Auditions open for Lee Academy Full Time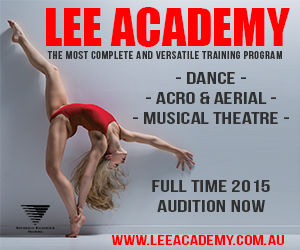 Lee Academy, founded more than 20 years ago and offering studios in North South Wales, is known as a leader in dance and performing arts education. The academy is a dance studio, gymnastics and cheerleading school, aerial arts training centre and vocational Full Time Course provider. Also hosting a talent agency, in-house professional photographer and a professional dance company, Lee Academy offers students many avenues to excel in.
The academy's Full Time Courses include: Advanced Diploma in Dance (Elite Performance); Diploma in Dance (Elite Performance); Diploma of Musical Theatre; Acrobatics and Aerial Fulltime – including Diploma in Dance (Elite Performance); Certificate IV in Dance; and Certificate III in Dance. Auditions for these courses are by appointment and are now open for 2015 intake.
Lee Academy Full Time makes the link for dancers from students to professionals. Providing a guided career pathway for aspiring performers and giving participants every opportunity to expand their skills, the academy nurtures their versatility and explores their artistic self expression.
The academy was the first performing arts studio in Australia granted permission to offer the Advanced Diploma of Dance (Elite Performance) under the new standardized National Dance Qualifications.
The main subjects taught at Lee Academy include: accent training, acrobatics/gymnastics, acting, anatomy and nutrition, ballroom dance, choreography, classical ballet (RAD), contemporary, dance psychology, hip-hop, jazz, lyrical, musical theatre, partnering, pointe, pop vocal, professional development, silk tissue, trapeze and lyra, stage and screen choreography, stagecraft, tap, theatrical make-up, tumbling and vocal ensemble.
Teachers include Jo Cotterill, Alyssa Casey, Di Rakebrandt, Dianne Banks, Katie McCarthy, Brooke Frew, Keith Hawley, Joshua Horner, Kelley Abbey and Celeste Barber.
For more detailed descriptions of the Full Time Courses or to apply for an audition, visit www.leeacademy.com.au.
See Dance Informa's 2015 Full Time Dance & Auditions Guide to learn more about the best full time courses in Australia, New Zealand and New York.