Audition Bootcamp for Kids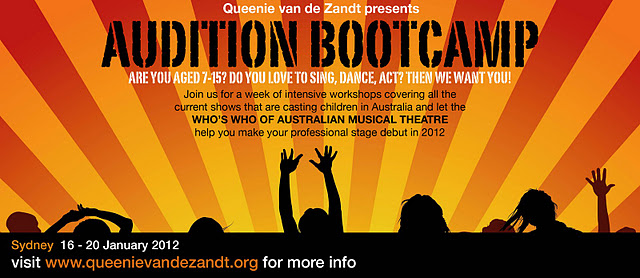 Musical theatre is booming in Australia with more shows featuring children than ever before. Annie, Mary Poppins, Love Never Dies, Chitty Chitty Bang Bang and The Addams Family are some of the biggest shows we've ever had play our stages and they all have children in their lead roles. Teacher of Audition Technique, Queenie van de Zandt is running a one-week intensive Audition Bootcamp in Sydney, to help children aged 7-15 stand out from the crowd at musical theatre auditions.
Queenie has high success rates in her workshops with young students having landed roles in Love Never Dies, Mary Poppins and Annie after attending Queenie's preparation workshops. 5 of the 24 young girls in the upcoming production of Annie attended Queenie's course. Other teachers include Jack Chambers from So You Think You Can Dance, Max Lambert, the musical director of Hairspray, and Chloe Dallimore, who is currently playing Lily in Annie.
For more information visit NSW Events