Another successful Darwin Festival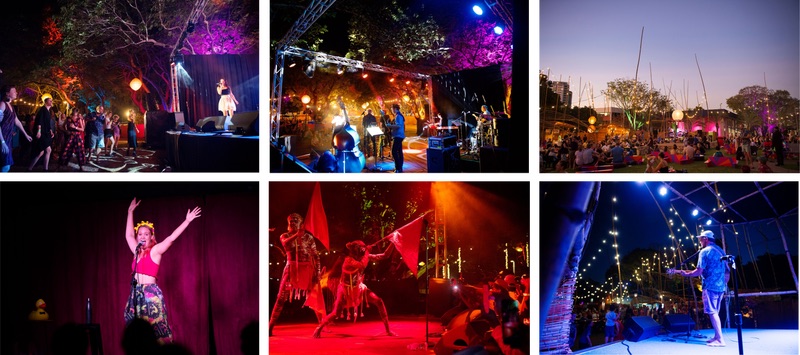 In what has been the first major arts festival in the world to go ahead since COVID-19 drove global communities into lockdown, Darwin Festival has officially drawn to a close following 11 glorious homegrown August nights in the Top End.
Navigating border restrictions and hotspots meant a reimagined shape, scale and scope for this year's event with the resulting DF20 Homegrown program shining a spotlight on local Territory talent. The 2020 program featured 396 performers of which 94% were NT artists, in 253 free and ticketed performances across 38 Darwin venues. 95% of ticketed shows sold out – a total of 196 sold-out performances – with the Festival scheduling additional shows to meet demand.
Acting CEO James Gough said, "We were very lucky in that the Northern Territory was one of the only places in the world where a physical festival could safely go ahead. We worked tirelessly with the Department of Health and the artists to ensure that the DF20 Homegrown program was the best celebration it could be in this different world we're all living in" said Gough.
Festival Artistic Director Felix Preval said, "Just as the first Festival brought Darwin together in the wake of Cyclone Tracy in 1979, the 2020 Festival has been the much-needed pick-me-up we've needed here in the Territory; a source of hope and positivity as well as a celebration of Territory strength and resilience.
"We set out to deliver a hyper-local program and achieved this in spades with a range of accessible community activities, live and online performances and creative responses. This year has been a great opportunity to get back to our roots and program a local line-up, in which old friends found new ways of making magic!
Creativity from artists and organisers during planning was required to react to the ever-evolving pandemic. "In March we're normally signing off our program but this year, like many other events, we were looking at the possibility of cancelling. As things changed, we explored an online-only lockdown version of the program, then a super physically-distanced festival for just a few people, before settling on our final mix of online and live performances.
"This constant shifting in approach on how to deliver the Festival meant that some of our artists had much less time to pull together their shows. It's a real testament to their adaptability and creativity that the final product was something super polished, engaging, entertaining and uniquely Territory in nature.
NT Major Events Company CEO, Tim Watsford said, "The Darwin Festival team prides themselves on showcasing the best talent the NT has to offer, and this year was no exception."
"The NT Government funds events like Darwin Festival to bring the community together and provide opportunities for Territorians, both as spectators and participants.
"To see people enjoying Festival Park and soaking up the sights and sounds of the Festival program was very welcome after so many months of doubt around events."
Darwin Festival will return in 2021 for another season of Hot August Nights.
Image courtesy of Darwin Festival